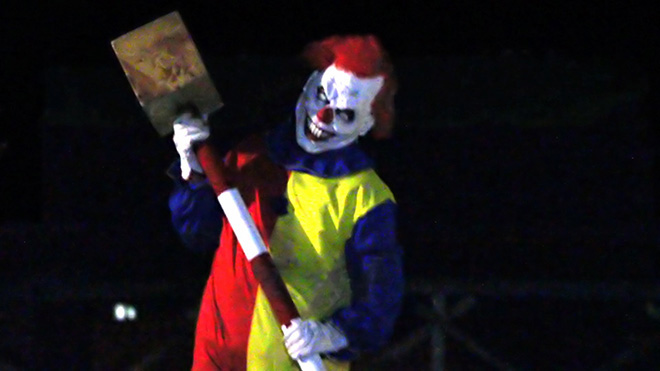 Believe it or not, Coulrophobia (or "fear of clowns") is a real thing for a lot of people, and you can partly thank Stephen King's "It" for that.
So with that in mind, popular YouTube channel DM Pranks used a murderous-looking clown, a sledgehammer and fake blood/bodies to scare random people in a video they called "Killer Clown Scare Prank!"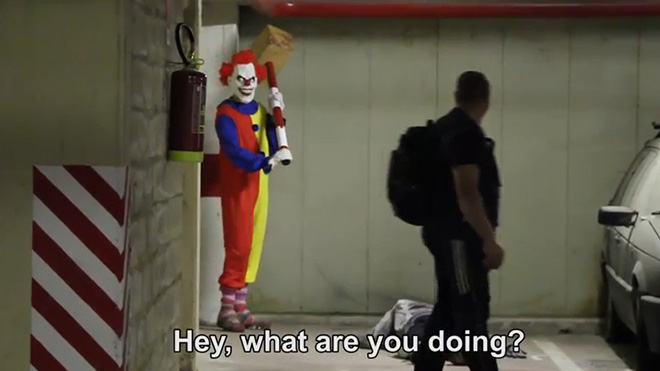 We've seen lots of pranks over the years (some scary, some funny, some not-so-scary, and some not-so-funny) but nothing really comes close to this one!
In the video, the clown, complete with circus-like oversized mallet and everything, is hiding behind a wall in a parking garage.

When two men come walking down the stairs, they see what looks like a body lying on the ground. As they make their way around the corner, they see the clown standing there brandishing his weapon and looking at them menacingly.

Just like that, he swings his mallet and the "man's" head is crushed, sending fake blood spattering everywhere. As the two men scream in horror, the clown proceeds to pick up his mallet and chase them through the garage.

[via: Fansided]
Terrifying to say the least!
WATCH THE "KILLER CLOWN SCARE PRANK" ABOVE
Be the first to receive breaking news alerts and more stories like this by subscribing to our mailing list.