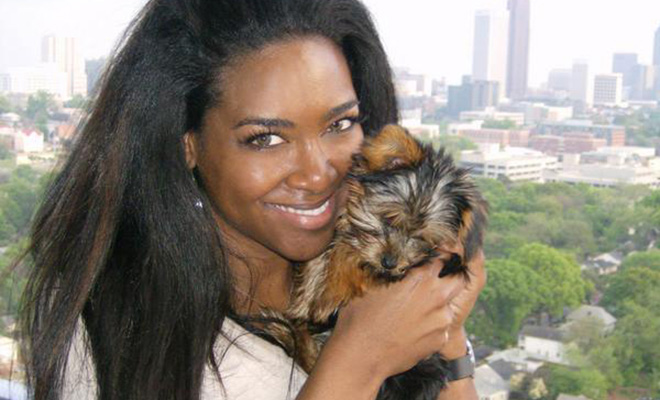 On this week's episode of the "Real Housewives of Atlanta," we watched Kenya Moore cry over the death of her beloved dog of seven years Velvet.
According to Kenya, her little doggy baby was outside by herself for "two minutes," and she somehow ended up in the jaws of a vicious neighborhood dog, which is just terrible.
Later in the episode, Moore invited her friends Cynthia Bailey and Kandi Burruss out to lunch and broke the sad news, which shocked both Kandi and Cynthia, the latter of whom yelped and threw her hands up in the air all weird-like.
Cynthia and Kandi consoled Kenya, and they told her they'd support her by attending Velvet's memorial, which will be shown in next week's episode.
But hold up, wait a minute. Is Velvet REALLY dead? Or did Kenya Moore fake her dog's death to secure her spot in the next two episodes?
And if so, WHO DOES THAT? Someone who craves attention, that's who. And we all know much how much Kenya Moore-whore (Phaedra's words, not ours) loves attention.
Yesterday, Twitter was abuzz with allegations that Velvet is actually alive and well, in the care of Kenya's BFF Brandon DeShazer.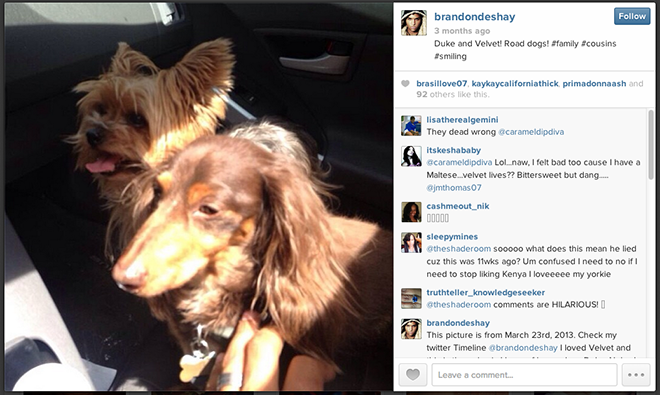 If you'll recall, Brandon is Kenya's BFF/assistant who was on the receiving end of Apollo's fists of fury during Nene's "Pillow Talk" event several episodes back.
The above photo was posted to Brandon's Instagram page on January 14th of this year, which, based on Bravo's production schedule for the show this season, would have been several months after Velvet's death. (Bravo stopped shooting for "RHOA" Season 6 last November … so you do the math.)
But, despite Kenya Moore being an attention whore, she actually did not fake her dog's death, which would be an awful, awful thing to do.
As it turns out, the rumor unsurprisingly originates from satire news site Media Take Out, who posted a story yesterday morning alleging that Velvet was living on the west coast with Brandon. Citing a "tip" from one of their "readers" from Los Angeles, the website "reported":
According to an MTOer that lives in Los Angeles . . . we're told that Kenya's BFF Brandon showed up with a LITTLE YORKIE about six months ago. And that Yorkie looked SURPRISINGLY SIMILAR to Kenya's dog. We're told that TO THIS DAY . . . Brandon still [has] that dog.
Supporting their shocking claims, MTO mentioned the photo Brandon posted on Instagram a few months ago — long after the emotional scenes about Velvet, including the memorial service, were filmed.
But Brandon has hit back at the site on Twitter, calling them "insensitive idiots" and explaining that the photo was taken in March 2013. He tweeted:
. @Its__Jess well they are insensitive idiots. smh this is the only picture that I have of both. was take in March 2013…check my timeline.

— Brandon DeShazer (@BrandonDeShay) April 7, 2014
Throwback pick from MARCH 2013. Check THOSE receipts before you go posting vile and insensitive stories. #RHOA pic.twitter.com/DdBznnRs3I

— Brandon DeShazer (@BrandonDeShay) April 7, 2014
I want a retraction from them. That picture is from March 23rd 2013 and they know it. NO HEART!

— Brandon DeShazer (@BrandonDeShay) April 7, 2014
This is what you call RECEIPTS. Very hurt. http://t.co/I0aHe216hO

— Brandon DeShazer (@BrandonDeShay) April 7, 2014
My photos of Velvet didn't pass away. Our beloved Velvet did. I have what I have to honor her memory. And those are my pictures. #RIPVelvet

— Brandon DeShazer (@BrandonDeShay) April 8, 2014
Unlike MTO (whose article remains unchanged and will likely stay that way), celebrity/entertainment blog Starcasm actually did their research, and uncovered Brandon's actual March 2013 tweet:
Cousins, Lady Velvet and Sir Duke riding down the 405. @kenyamoore pic.twitter.com/QJt0vsmlo7

— Brandon DeShazer (@BrandonDeShay) March 23, 2013
So there you have it! KENYA MOORE DID NOT FAKE HER DOG'S DEATH FOR A STORYLINE.
We all know Kenya is cray-cray, but she isn't THAT cray-cray!
Meanwhile, Brandon has since spoken to TMZ about the situation and he called MTO's erroneous report "vile" and "irresponsible." He added, "Anybody who has pets knows the kind of love you develop for them. To report that something like that would be staged … it's disgusting."
For Kenya's part, Brandon said she is still heartbroken over Velvet's death and she called the reports "evil," and while we hate to say it, we couldn't agree with her more.
Be the first to receive breaking news alerts and more stories like this by subscribing to our mailing list.