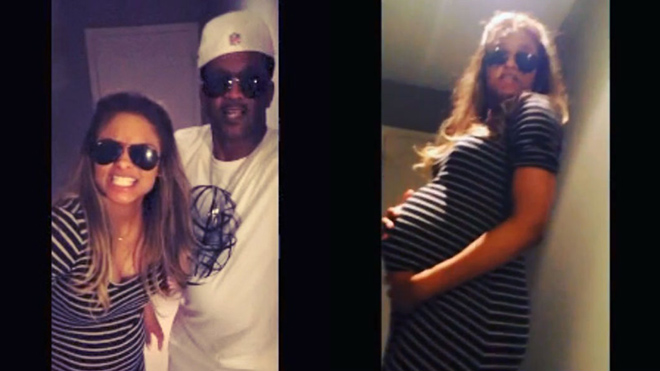 Ciara's pregnancy has her dancing for joy!
The 28 year-old singer, who is rocking a massive seventh-month old baby bump, uploaded a series of videos to Instagram dancing along with her father to her fiancé Future's new single "Move That Dope."
"This Is What Happens When A Pregnant Lady Cant Keep Still:) Me and My Daddy Jammin Up In The House…:) Part 1" CiCi wrote on in the caption for one of the videos.
Ciara's dad doesn't move half bad for an older cat! He looks like he definitely knows how to get the party jumpin, and you can tell he's both happy and proud to have Future as a son-in-law.
The singer, who is in her third trimester, celebrated her baby shower in Beverly Hills last weekend with close friends and family, where the sex of the baby was confirmed with blue decorations and a baby blue cake that said "It's A Boy!" (Click here for pics if you missed that!)
Earlier this month, Future accidentally revealed the sex of his and Ciara's unborn child by referring to the baby as "he" and "him" in an interview.
"The baby is already listening to music now," the proud dad (who already has four children, all with different women) told the UK's Capital Xtra.
"[Ciara] sent me a video while I was over here with the headphones on her stomach. She said, 'The baby just listened to Turn On The Lights, the version with me and you!' I said, 'You gotta play that Anytime for him, the new one you did. Let him hear that. See how he kick.'"
Be the first to receive breaking news alerts and more stories like this by subscribing to our mailing list.