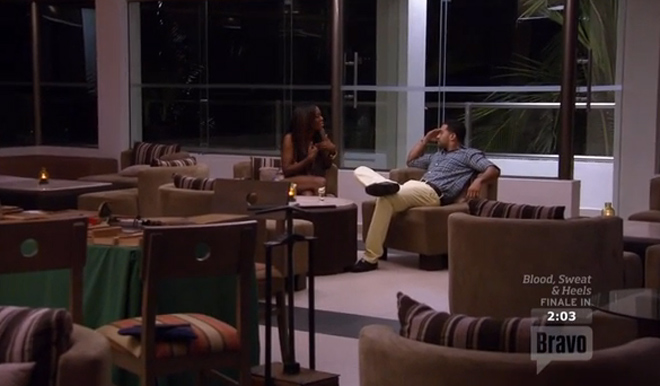 There's no denying it: Apollo and Kenya have chemistry. Since the two have cross paths in season 5, they've been busy oogling each other and flirting on the low. This landed them in hot water in Anguilla, as they got carried away and flirted more openly than Phaedra, Apollo's wife, was comfortable with.
After the blow-out from that carried over into this season, you would think Apollo would know better than to get within 5 feet of Kenya. But the fiery "physicality" between the two of them, (Apollo's word, not mine) makes it so damn hard.
After teasing Apollo while floating around in a bikini in the underground spring, Kenya comes down to hang out with the guys as they smoke cigars and drink liquor.
The guys are kind and play along as she dips her cigar in their cognac. But Kenya is a woman on a mission and she soon crafts a way to get Apollo alone. While Todd plays the dutiful wingman at first, Apollo sends Todd on his way and Kenya confronts Apollo about all of the tension and drama that has gone on between the two of them. Specifically, Kenya wanted Apollo to clear up the insinuation behind his "I could've smashed Kenya if I wanted to" statement, which implied she'd given him the green light to do so.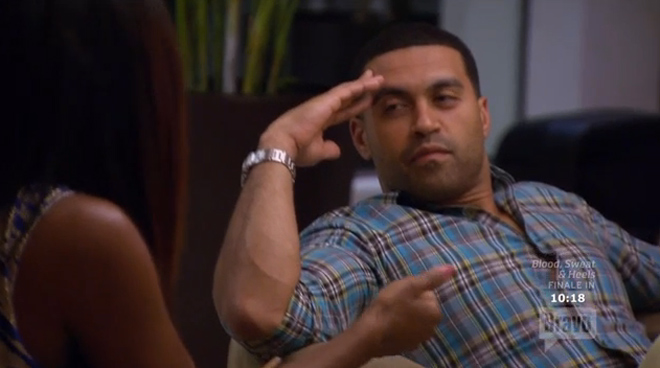 Here's what Apollo offered as his logic behind the statement:
"Because you are an attractive woman and guess what? Any man could fall victim to that," Apollo said. "The fact was, me as a man and who I am as a man and my physicality and your physicality, if that's what I wanted to do, I felt like I could've done it."
I want Apollo to borrow his son Ayden's Sesame Street material and get his communications skills together, because this "explanation" is a messy Play-Doh ball of logic.
Kenya is utterly confused by Apollo's explanation but she does appear to be rather charmed by his presence. Quiet as it's kept, while Kenya is crowing about never doing anything "inappropriate" with Apollo, her flirting and playful ways with him speak volumes.
But guess who walks in on Apollo and Kenya chit chatting? None other than Mrs. Phaedra. The producers are saving the drama for the next episode, but you know it's gonna go down because she immediately locks her eyes on the two of them and asks Kandi what the hell they're talking about.
It's safe to say that Phaedra is gonna have to snatch at least one wig while she's down in Mexico.
Kenya Seeks Fertility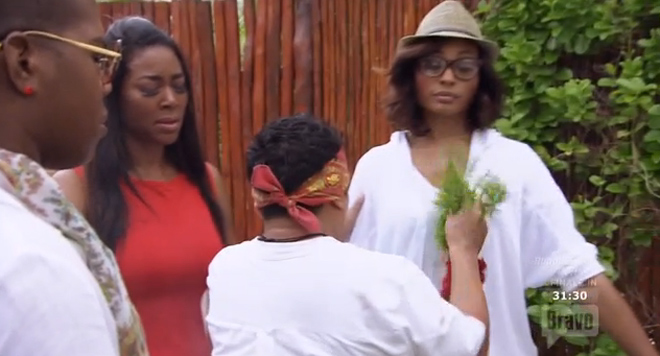 In an attempt to bring the group of girls closer together, Kenya decides it's time to take down some of her walls. So she opens up to Kandi, Cynthia and NeNe about her struggles with infertility. Then, she invites them to participate in a fertility prayer ritual with a Mexican shaman.
Girl, what?
While it's nice that Kenya wants to get personal, concerning yourself with fertility before you land a man is an ass-backwards way of doing things. But hey, it gave Kenya an opportunity to once again relive the trauma of her childhood so you know what that means: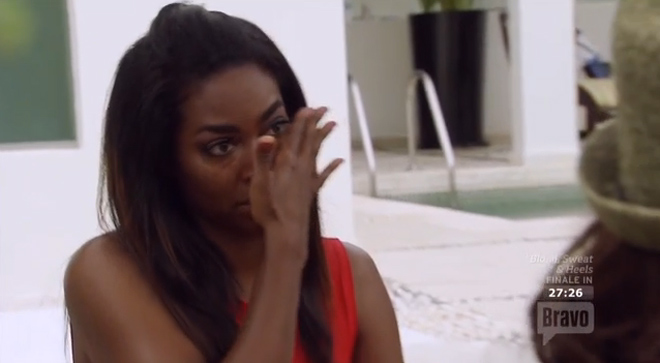 While the weeping might have been a little uncalled for, the connection between Kenya and the other women really did seem genuine. So kudos for that.
As much as we all enjoy the squabbling and the fighting, the truth is that we as viewers also want these women to genuinely connect with one another and balance the drama with moments of honest sisterhood. Because if you don't have the positive moments, then the negative ones end up feeling rather hollow.
Anyway, as far as this shaman session, I doubt it will really help Kenya get pregnant, but then again, if getting knocked up was REALLY Kenya's number one priority, she'd be living a totally different life. But it makes for a nice storyline.
Be the first to receive breaking news alerts and more stories like this by subscribing to our mailing list.