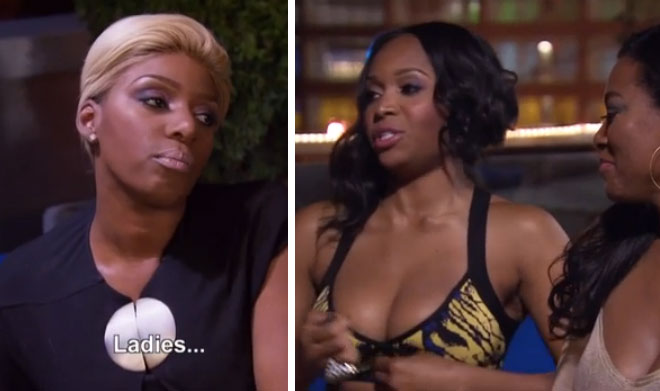 There are two things NeNe Leakes doesn't tolerate: Being upstaged and being betrayed. Kenya Moore is guilty of the former and her one-time bridesmaid Marlo Hampton, is guilty of the latter.
If you've been following the drama from the last few episodes, then you've witnessed the blossoming friendship between Marlo and Kenya.
The two ladies already share hairstylist Miss Lawrence in common and their senses of humor appear to be compatible as the two ladies are constantly seen cackling and yucking it up.
In this episode, Marlo meets up with Kenya to catch up on what went down at the charity event. Kenya does a hilarious impression of NeNe's stank face and behavior and while it's tempting to laugh, Marlo does her best to remain loyal and reminds Kenya that NeNe is her girl.
Feeling caught between the two, Marlo expresses that she'd prefer Kenya and NeNe work out their differences so she offers to broker a peace between the two.
What Marlo doesn't know is that the grudge NeNe is holding will soon land on her doorstep!
Despite lingering bitterness or Peter's heated argument with NeNe at Kenya's charity event, NeNe decides to attend Peter's Jamaican-theme birthday bash. NeNe is there, but she's not really there.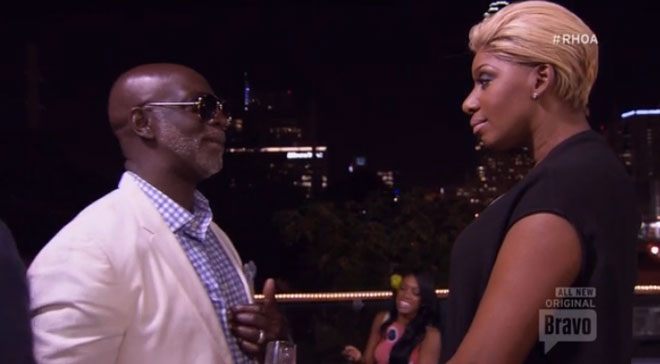 She remains tense and uptight the whole time she's there and she manages to muster out a "Happy Birthday" to Peter through pursed lips.
In her confessionals, NeNe is busy calling Peter a "bitchass" and she keeps saying that only women gossip. So not only is NeNe using derogatory language about gays ("stop being a queen") she's also co-opting misogynistic stereotypes about women and their so-called vicious nature.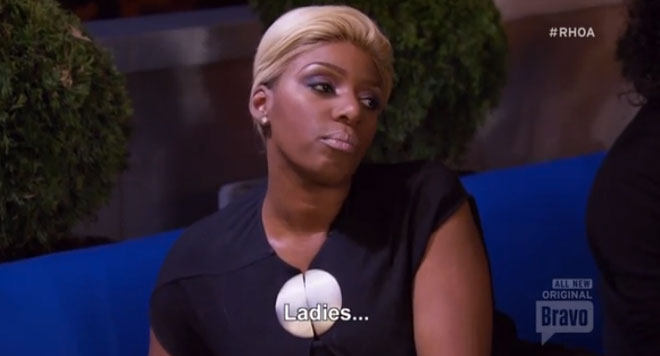 But NeNe's pot really boils over when she sits down after her exchange with Peter and witnesses Kenya and Marlo giggling like two school girls.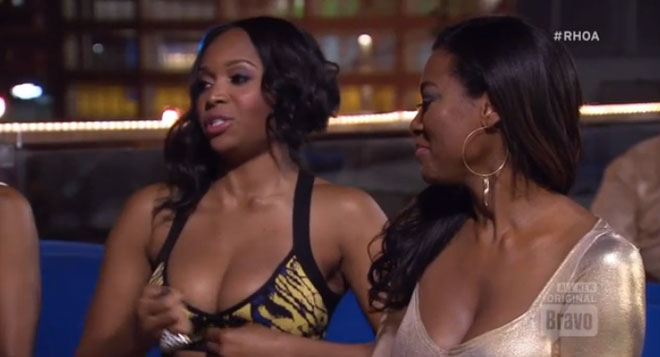 The sight of her old friend kickin' with her new enemy is just too much for Mrs. Leakes to bear so she gets the hell out of dodge.
"Marlo and Kenya are acting like BFFs, and I don't have time for it," NeNe says dismissively.
Bailey Bowl Goes Bust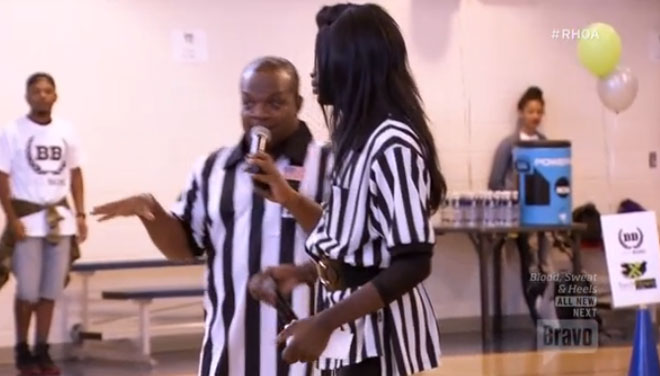 In an attempt to build camaraderie among the girls, Cynthia organizes something called the Bailey Bowl. As she puts it, it's essentially a field day for adults. Each Housewife is allowed to build a team of their own choosing and compete against one another in a series of events.
NeNe's team is dubbed Team Rich and it's made up of her friends and family. If you thought Marlo would be included in that group, you thought wrong. NeNe disses that thug misses and doesn't look back. But the scraps that NeNe has thrown overboard are the crown jewels that Kenya is willing to wear on her head.
Once it's clear NeNe is going to leave Marlo hanging, Kenya makes a call and adds the marvelous Marlo Hampton to Team Twirl. Another suspiciously missing teammate during the event is Apollo, who is nowhere to be seen on Phaedra's Team Real. Cynthia touches on this in the confessional but there aren't any other details offered. Maybe Apollo was too busy (allegedly) stealing people's identities to make it in time for the event?
Oh well. Let the games begin!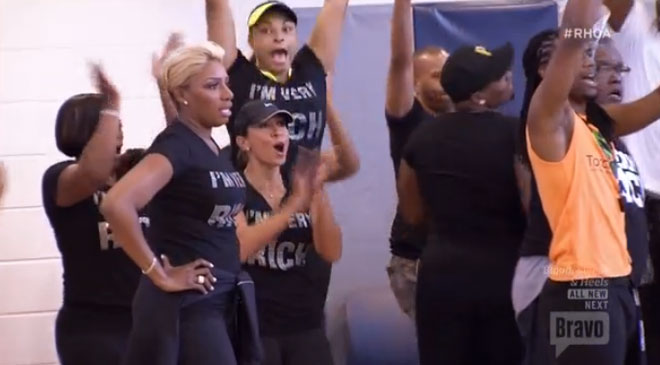 Things start off simply enough with the teams trying to carry an egg in a spoon back and forth across the basketball court without dropping it.
Team Kandi fails badly and Team Twirl flies above all the haters. But some shaky refereeing by Derek J and Funky Dineva throws everything off as NeNe contests Kenya's so-called victory since she didn't have the required seven teammates at the start of the event.
Let it be noted, that even though Kenya COULD'VE acted up at this point, she didn't. She laughed it off and kept it moving.
After that, the activities moved outdoors and the teams had to pull off a series of events including three-legged racing and the hula hoop. But as the events go on, Marlo increasingly feels more and more betrayed by NeNe's exclusion so she vents to Lexis, NeNe's friend.
Kenya stops by to find out what the two are talking about, and once she catches on, Kenya suggests they talk to NeNe, one-on-one and set things straight.
But when the dynamic duo approach Mrs. Leakes, NeNe balks and it's on like Donkey Kong. Marlo loses it completely and goes after NeNe hollering at her for abandoning their friendship because of her uncontained jealousy over Marlo's affiliation with Kenya.
Marlo doesn't hold back and chases NeNe to the parking lot.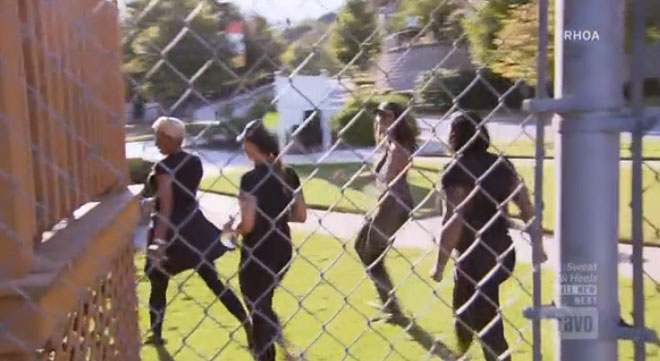 She also insults NeNe's hairstyle telling her she needs to "go and get that f**king Donald Trump hair redone."
Welp. It's obvious Marlo is not a fan of NeNe's blonde ambition lacefront experimentation. And to be honest, it does look quite feathered like Mr. Trump's.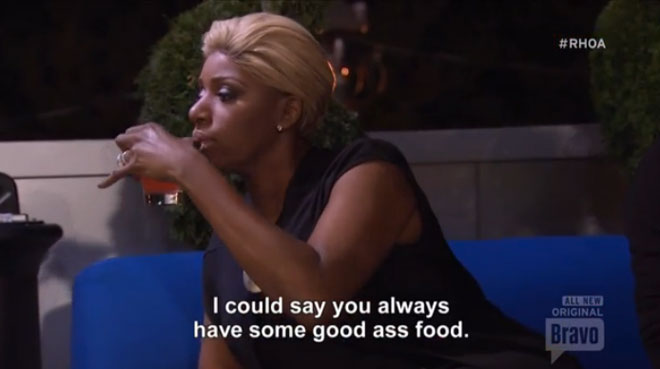 With this dramatic blowout, you can safely say that the so-called Marlo-NeNe friendship is dead and gone. Phaedra might as well go ahead and bury it for 'em.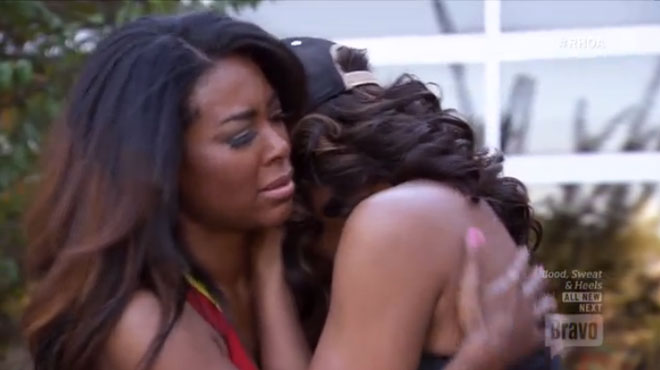 But with Kenya by her side, Marlo is gonna be just fine. Kenya already kept Miss Lawrence's career ambitions alive by adopting him from Sheree, who was booted from the show, so she's perfectly capable of doing the same for Marlo.
SIDENOTE: I feel like Gregg's drinking from a toilet bowl replica mug is a silent protest for the shit he has to take from NeNe.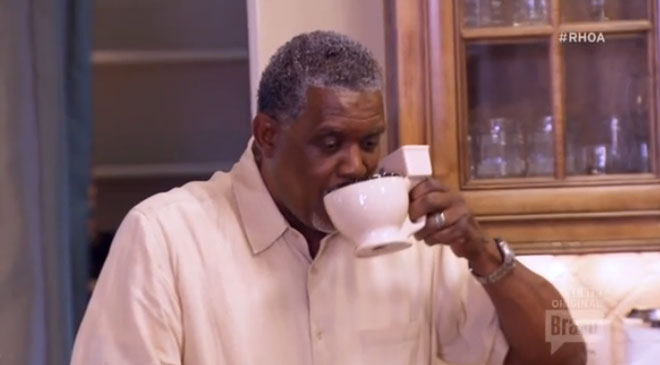 Stay strong, brother.
Be the first to receive breaking news alerts and more stories like this by subscribing to our mailing list.