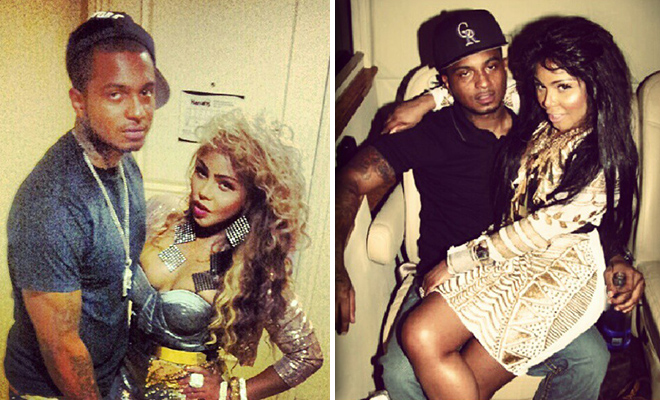 Like we all suspected, the man responsible for the bun in Lil Kim's oven is Mr. Papers.
Papers, a New York-based rapper who was first linked to Lil Kim back in June 2012, outed himself on Instagram as the father of Kim's unborn child, just hours after Kim's pregnancy made the news last Thursday (Feb 13) following her NYFW appearance and big reveal.
"I heard everybody looking for me ?????????????????" Papers wrote on Instagram. In fact, he's been using the hashtag "#Iheardeverybodylookinforme" in several of his postings on the site since Thursday's announcement.
Pregnant Lil Kim Debuts Baby Bump at New York Fashion Week: "I Can't Wait To Be A Mom!"
In the days following Kim's pregnancy announcement, a quick visit to Mr. Papers' Twitter page (where he calls himself "Daddy" — coincidence, or nah?) shows a BUNCH of congratulatory retweets, from fans, radio DJs, media outlets, you name it, making it blatantly obvious that this guy is NOT shy about who he is.
Mr. Papers also confirmed that he's Lil Kim's baby daddy in a radio interview with the Rickey Smiley Morning Show on Friday.
"Yeah, that's my baby," Papers said. "My sh*t ain't magic, it's bout like 24-carat gold though," he added, referencing the "Magic Stick" song Lil Kim did with 50 Cent YEARS ago.
Mr. Papers didn't speak on any possible baby names, but he did accidentally reveal the baby's sex. "He gon' be a gemini though, but I don't wanna give you all the information, ya heard?" he said. "He gon' be a gemini."
A gemini, huh? So that means the baby will be born sometime between May 21st and June 21st, meaning that Kim is AT LEAST 5-6 months pregnant.
Kim and Papers aren't married, and in December 2012, she tweeted that they had broken up:
As of 2night me & Papers are officially Over. No malice or bad blood. I'll see U guys soon. #12DaysofXmas

— Lil' Kim (@LilKim) December 6, 2012
But at some point, the couple obviously patched things up, because they collaborated together for a remix of Rihanna's "Pour It Up," and Papers also starred with Kim in the video that came out in March 2013.
These days though, Mr. Papers says he and Kim and definitely still together.
"Nah we together, bruh," he told Rickey Smiley. "You know how they like to talk; we together. That's my wife; that's my baby."
Be the first to receive breaking news alerts and more stories like this by subscribing to our mailing list.