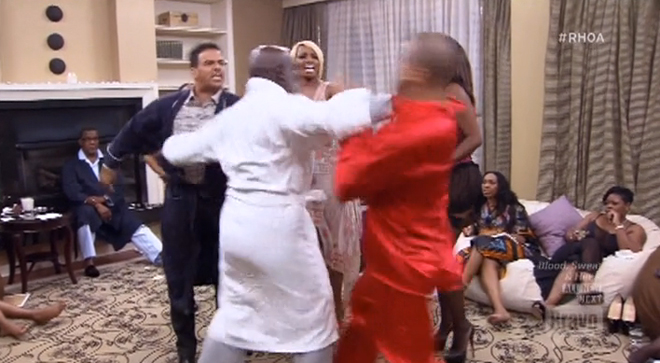 When people ask why you watch reality TV, show them episode 13 of the sixth season of "Real Housewives of Atlanta". It is the perfect example to hold up in defense of guilty pleasure entertainment.
Now look, there was a whole lot of filler content in the first half of this episode. Something about Kenya going to see a fertility doctor and visiting a sperm bank, and something about an inauguration party for Phaedra's second son, Dylan, better known as Mr. President.
But none of that matters because NeNe had a grown-up sleepover and a FIGHT broke out.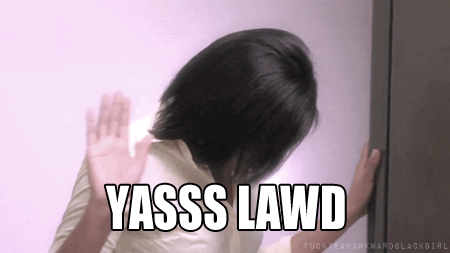 So let's cut straight to the chase, shall we?
Sleeping with NeNe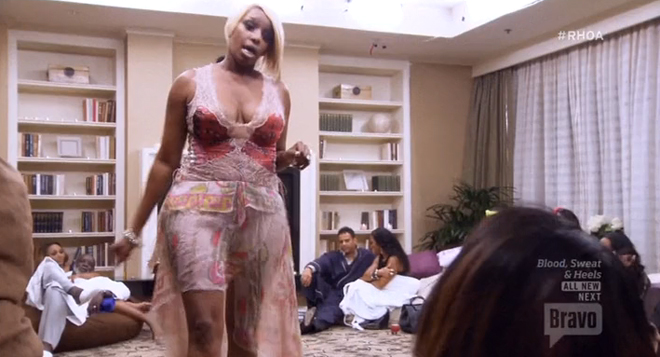 I'm not sure why NeNe has become the go-to event planner for this bunch, but I appreciate her efforts to switch things up. Whereas everyone usually meets at various restaurants, coffee shops and clubs, NeNe spices it up by sending the girls to haunted houses and slumber parties.
But don't let NeNe's hospitality fool you. This bitch is sneaky as hell.
In a strange twist, NeNe plays the ringleader for an "intimate" night of "pillow talk." Um, NeNe must be confused on what the term pillow talk means, but it applies to conversation between lovers during or after the throes of passion. So unless she's planning on having an orgy with all of her castmates, this slumber party ain't gonna have no pillow talk.
That doesn't mean NeNe isn't going to get her sexy on. Get into NeNe's lingerie get-up, which I guess is tantalizing to Gregg?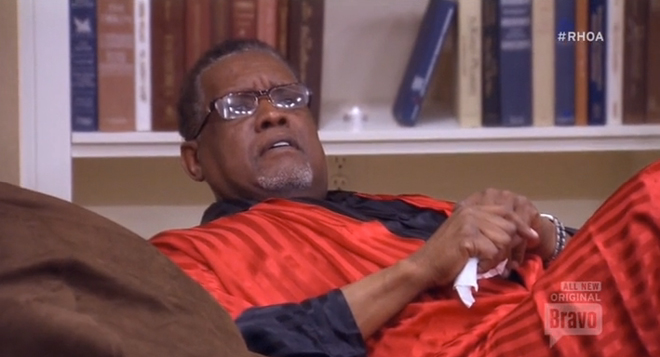 To be honest, Gregg doesn't seem that interested in what's going on with NeNe.That man is here for the milk and cookies and that's it.
NeNe, on the other hand, is here for drama. And boy does she have an elaborate scheme in mind.
Let the Drama Games Begin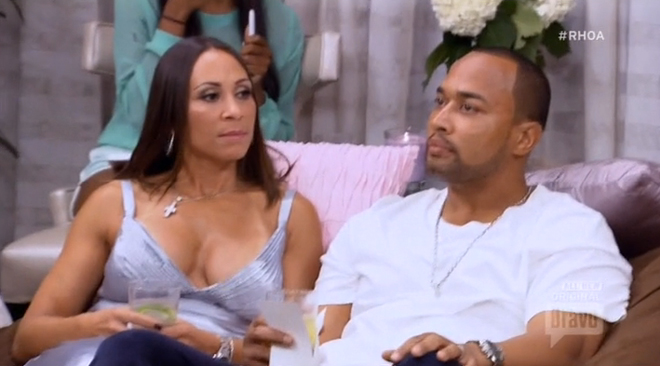 In addition to her actual castmates — Phaedra, Kandi, Porsha, Cynthia and Kenya — NeNe decided to invite the two most recent guest stars who've rocked their worlds: Natalie, the "wife" of Christopher Williams, and Mynique, the wife of ex-NFL player Chuck Smith who previously dated Kandi and Phaedra.
Mind you, NeNe is the one who says this Pillow Talk slumber party is supposed to be a chance for the girls to bond and clear the air, so why invite the very people who are causing confusion and disruption? And furthermore, while NeNe has an established relationship with Chuck and his wife, she DOESN'T know Natalie at all. Cynthia is in fact quite taken aback when NeNe tells her that Natalie is coming.
Of course, the motive for inviting Natalie and Mynique is obvious: NeNe wants to create drama. Natalie and Mynique are nothing but pawns NeNe is using to prod and poke her castmates and these girls are desperate enough to be used because they're hoping for a full-time slot on the show.
The main target of NeNe's wrath for today is Kenya. Kenya is apparently an hour late to the event and we all know how NeNe is about tardiness.
So Kenya shows up to event with her gay friend and assistant Brandon. NeNe gives her hell and insults but Kenya takes it like a sport.
After asking insulting questions, like calling Porsha out when one of the cards asked if anyone would be comfortable with their partners being bisexual. Porsha doesn't appreciate the jab but she playfully swats NeNe's remarks off.
Next, NeNe decides it's time to come for Kenya head on, so she announces, "Let me take the floor, see. Let's keep it real up in here. When we was at the winery, Kenya, you had say much to say about Christopher and Natalie and we're talking about relationships. We're here to help each other so that we can be around each other and move forward, so let's please keep it all the way real."
At that point, Natalie jumps right in and rehashs the common law marriage argument and then she enlists her husband. Christopher, to speak up in her defense. This fool went and prepared some damn cue cards that he wants to read to Kenya, so he stands up to address her. Is this English 101? Why are we up here giving speeches?
Mind you, at this point, Porsha advises that he should sit down. But Natalie insists he should stand.
Christopher ties up his bathrobe and begins his read of Kenya by saying, "I don't know what kind of medication you're on…."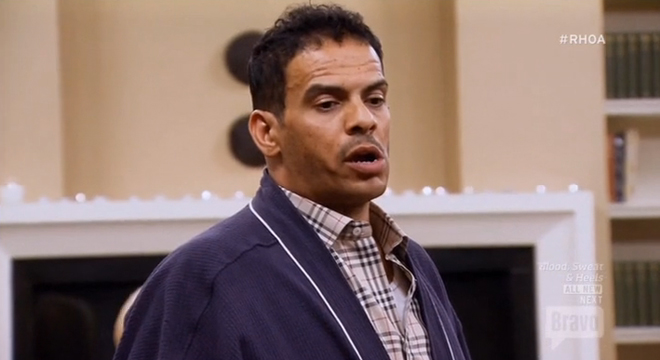 Sir, please don't ask anyone about the medication they're on when you look like 5 minutes away from a meth overdose yourself.
Right away, Kenya defends herself and chimes in by quipping, "The same meds you're on."
Chickenhead Natalie continues to squawk and instigate as Christopher confronts Kenya, which causes Kenya to get out of her seat to address Natalie. As soon as Kenya gets up and walks over to Natalie, Christopher grabs Kenya's arm and Kenya's balks, telling her not to touch him.
Immediately, Brandon leaps to her defense and tells Chris to unhand her.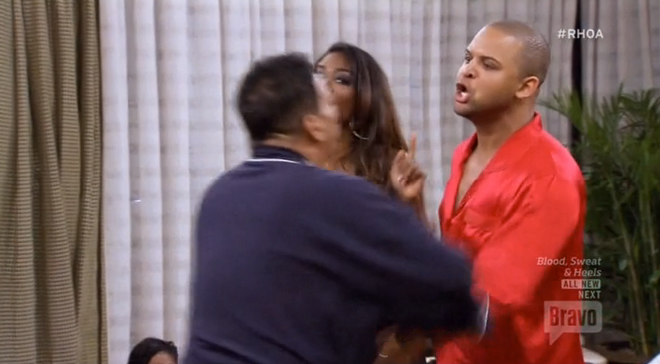 Then Christopher and Brandon start struggling and Peter jumps in to break it up.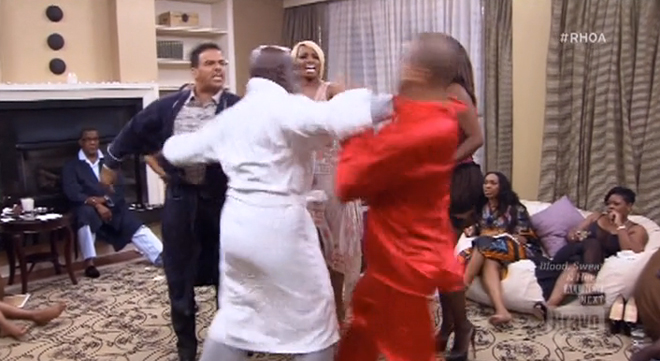 And then Apollo tries to jump and supposedly "help" break up the fight, but he ends up shoving Brandon back on the bean bag and Brandon takes the move as an act of hostility and then they start scrapping.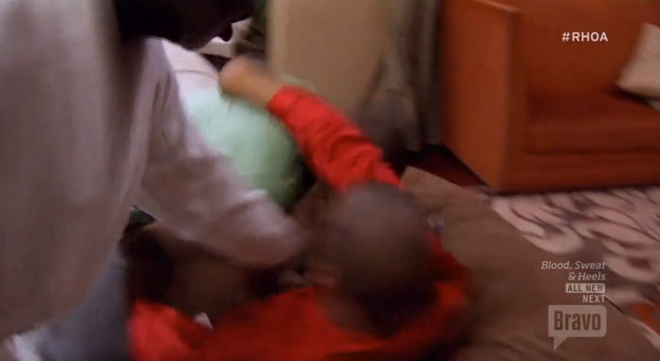 O.M.G. In the blink of an eye, RHOA transforms into an episode of "Jerry Springer". Or "Real Housewives of New Jersey".
But the fight gets really bad and the ladies scream and try to break the fight up but Apollo turns into a madman and keeps pummeling Brandon.
The funniest part though is how BITCH-ASS FORMER NFL-PLAYER Chuck Smith hides behind his wife Mynique like a punk-ass.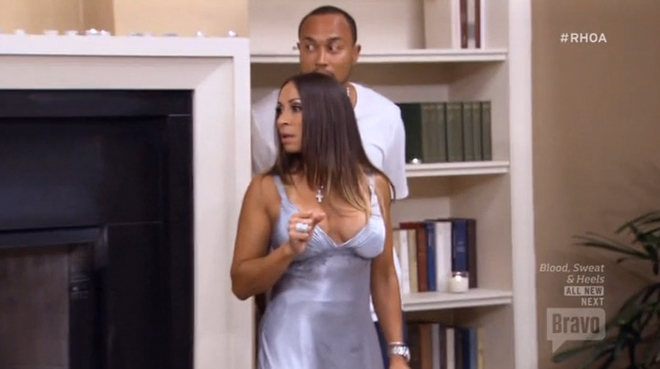 Derek J has bigger balls than Chuck Smith for this bullshit. Incredible. He probably makes Mynique pick up the dead spiders and shit at home too. Ol' soft ass.
Chuck's not the only one who looks spooked by the violence. Natalie's pressed face looks positively cracked once she realizes the holy hell she's unleashed.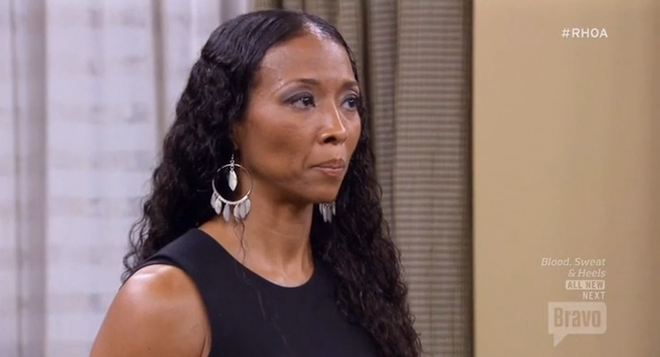 After production successfully separates the two, Apollo cools off with his shirt off, but this man looks like the Incredible Hulk.
Sure enough, after he lulls everyone into a false sense of security, he wanders back to the living room and….to be continued. Damn!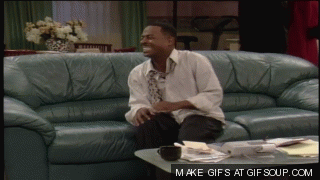 The good news is, it looks like Kandi will be joining the fray next week.
NeNe's Orchestrated Plan Went Haywire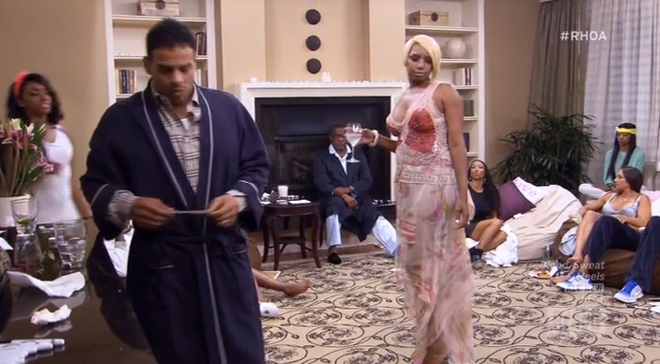 So just to recap everything. NeNe invites her castmates to a hotel for a slumber party. She also invites two women who have been nothing but disrespectful and disruptive to the group.
The reason is obvious: NeNe dislikes Kneya, Phaedra and Kandi. So she's willing to twist and spite whoever or whatever she can to make them uncomfortable and get them off the show.
But the problem is that Kenya is so blatantly in the right here that few can honestly side with NeNe. And furthermore, Chris implicated NeNe's hand in all of this by showing up with prepared cue cards that he had ready to rely on as he shamed Kenya.
Christopher knew what he was there to do and NeNe put him up to it. Will any of the castmates call her out on it?
Be the first to receive breaking news alerts and more stories like this by subscribing to our mailing list.