While "Real Housewives of Atlanta" has been enjoying some of the best ratings of the entire series run ever, it seems that the show's producers are in search of the next great thing because they keep test driving new housewives this season.
First, we got a taste of Mynique Smith and her ex-NFL playing hubby Chuck.
"Real Housewives of Atlanta" S6 E10 Recap: Phaedra, NeNe & Chuck Visit Their Hometown Athens, Ga.
After the dastardly duo stirred the pot by dragging Phaedra and Kandi's business out on Main Street, producers have let Natalie and her husband Christopher Williams surface to take a bite out of the Housewives pie as well.
Yes, that Christopher Williams. The '90s R&B star. The OG Chris Brown.
Natalie was actually already on a previous episode as she participated in the dance session with Cynthia at the Kandi Factory. But back then, she was merely introduced as the "fit" friend with no mention of her relationship with Mr. Williams.
In episode 12 of the sixth season, however, we meet Natalie's other half as they catch up with Cynthia and Peter who are out celebrating their anniversary.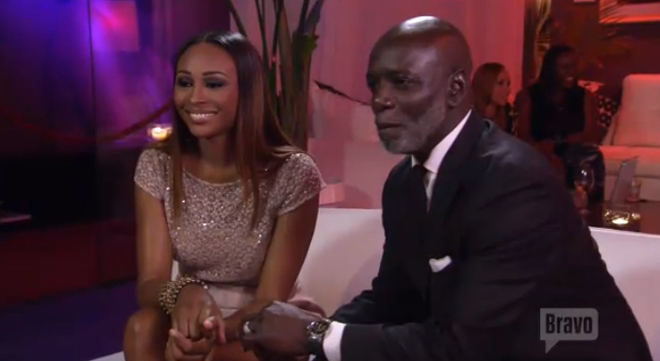 So after a little small talk, Natalie jumps right into why we're bothering with screentime for her and her hubby: She has "dirt" on Todd, Kandi's fiance.
Apparently, Todd dated a friend of hers and Natalie says that he not only cheated on her, but that he's a man who knows how to get on the "come up." In other words, he's an opportunist and is using Kandi for her money.
I guess Natalie is the source on the "streets" Mama Joyce has been listening to. Additionally, Christopher Williams has a history with former beauty queen Kenya Moore as they've acted in a few chitlin' circuit plays together as well.
With dirt on Kandi and links to Kenya you know something dangerous is gonna go down.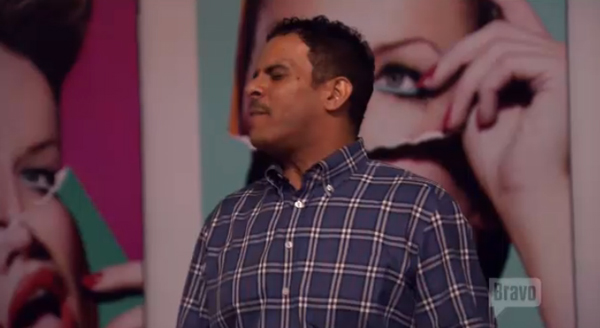 But for now, Christopher serenades Cynthia with a song that he wrote specifically for Peter and Cynthia, talking about how she held Peter down when he was broke and stuff. I guess it was romantic? At the very least, Christopher's voice remains as golden as ever. Too bad we can't say the same about his looks.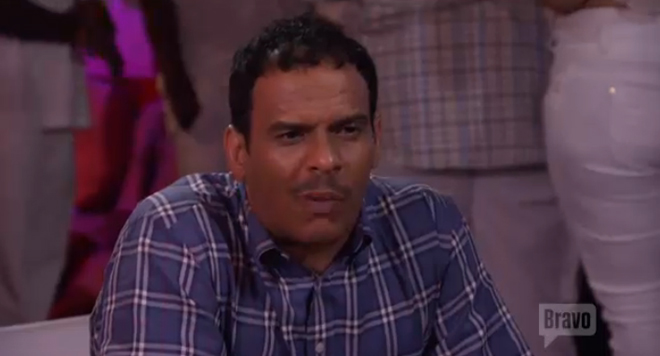 This fool looks like he's been hittin' that blue meth that Walter White was pushing. Time has not been kind to this light-skinned brotha.
A Shady Visit to the Winery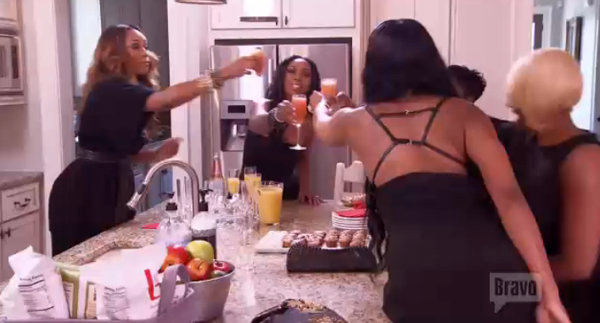 Because alcohol and field trips tend to bring out the worst in the Housewives, the producers have lined up another day-out for the cast at a winery.
But before they head out to the winery, they have to get liquored up and loose so they stop by Cynthia's house and drink mimosas.
Nene claims she needs the alcohol to deal with these women but shoot, the truth is she's probably drinking to cope with the fact that her career as a professional actress is on life support. BLOOP!
On the way up to the winery, Kenya, Cynthia, NeNe, Marlo and Mallory gossip and gab. Phaedra, Porsha and Kandi went in a separate bus, even though it looked like there was plenty of room to accommodate them in that one vehicle.
Cynthia blabs that her gal pal Natalie met with her the other day and informed her that Todd was an opportunist.
The ladies all "mmhmmm" and cluck about the dirt but NeNe also recalls that they might want to tread lightly since Kandi doesn't take kindly having to do with her man.
Kenya also reveals that she has some dirt on Miss Natalie as she knows her to be Christopher's "common-law" wife, not his "wife" wife. Oop.
They pull up to the winery and head up the steep hill for their wine tasting. Natalie, Phaedra, Kandi and Porsha show up shortly afterward.
Once the ladies sit down at the table, the gloves start to come off. Kandi tells the ladies that she's contemplating eloping with her boo Todd since her mother is giving her such a hard time about marrying him.
Mallory pipes up that she and her hubby eloped in Vegas 8 years ago and everything has turned out fine for her.
Then, Natalie chimes in saying that she and Christopher eloped 18 years ago while he was on tour. At the sound of that fairytale, Kenya rudely barks, "That's not the story I heard!"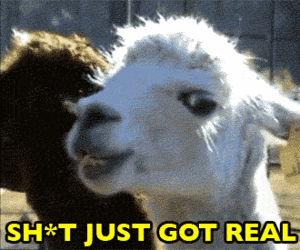 Girl, Natalie looked like she just got punched right between the eyes.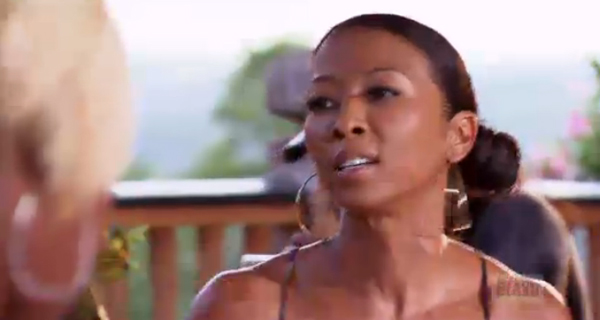 "What did you hear?" Natalie responded.
Kenya then went into the fact that she knew Christopher back in the day and that he used to refer to her as his girlfriend or "common-law" wife.
Needless to say, Natalie disagreed with that version of events and before you knew it, they started going back and forth and then they agree to drop it.
They head to another table for more drinks and that's when Marlo brings up Kandi's idea of eloping again. That's when Natalie shows her messy backend and jumps up and mentions that she knows Todd and that her broke her girlfriend's heart.
Kandi is all like, "And…?"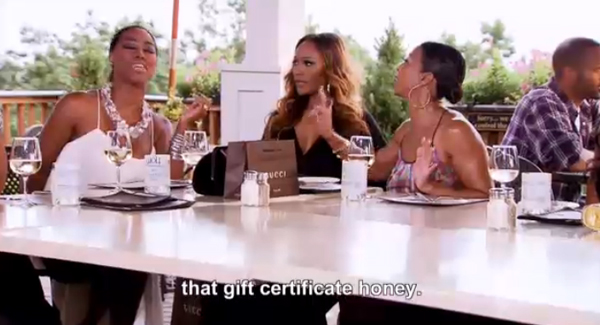 Kenya, however, feels some kind of way about it and she jabs Natalie by saying, "We're going there?" Natalie strikes back by saying, "You went there."
Then the two start squabbling about the dirt they COULD spill on each other and in the midst of the back and forth, Kenya drops a gem of shade when she tells Natalie, "I would love to see that gift certificate, honey" in reference to her supposed marriage license.
GOTCHA! As if that dragging wasn't enough, Kenya then turns up the fire on that pot by blabbing that Natalie actually told Cynthia that Todd was an opportunist.
Kandi is clearly annoyed by Natalie's ratchet gossip but she cooly serves her bird-ass an ice-cold stare as she prepares to read Natalie for blood.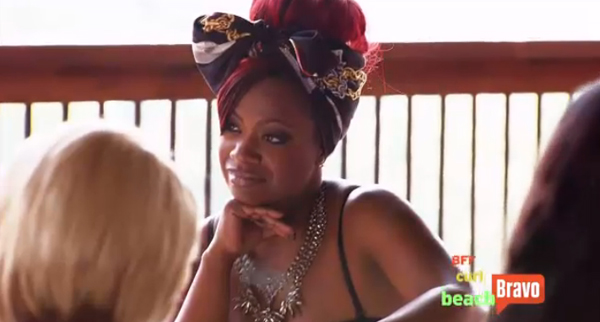 Natalie nervously tries to walk back her comments about Todd claiming that she never called him an opportunist she just says that he has his way of "swerving," but these vipers let her know that she's in the pit and she ain't about to walk away scot-free. NeNe chimes in, "Natalie, don't water it down."
Kandi then grabs a hold of Natalie's chain and yanks the mess out of her by responding that she doesn't care about none of this talk about Todd being an opportunist because it all just lets her know that Natalie thinks she's a "hot bitch."
Pretty much. That's all that really needs to be said on the matter. Kandi wins, Natalie loses.
After witnessing this most devastating ethering of Natalie and reflecting on the devastation dealt to Mynique on the Savannah trip, I hope these new girls contemplating a test run on RHOA think twice. Because this crew will knock you the f**k out.
Be the first to receive breaking news alerts and more stories like this by subscribing to our mailing list.