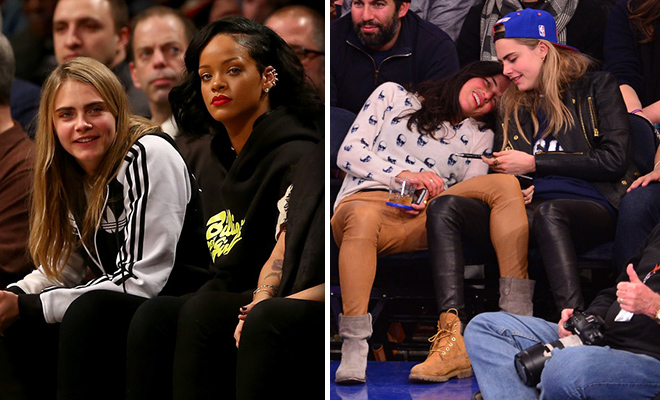 Is it just us, or does it seem like every celebrity wants to be BFFs with Cara Delevingne? Or maybe it's the other way around.
But regardless of who wants to be friends with who, this girl has been seen out with virtually EVERYONE in Hollywood.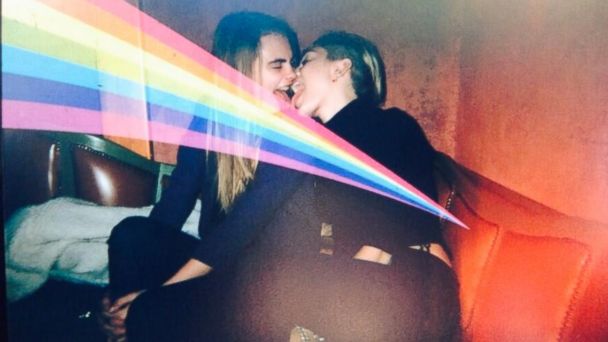 Just weeks after being seen "kissing" Miley Cyrus in a photo on Instagram, the 21-year-old British model with the "world's most famous eyebrows" (LOL) was spotted hanging out with Rihanna Monday night (Jan 6) at Barclays Center in Brooklyn, where she attended her first NBA game as the Brooklyn Nets took on the Atlanta Hawks.
The very next night (Tues. Jan 7), the Victoria's Secret model was spotted getting cuddly at Madison Square Garden with actress Michelle Rodriguez at a Knicks game in New York City.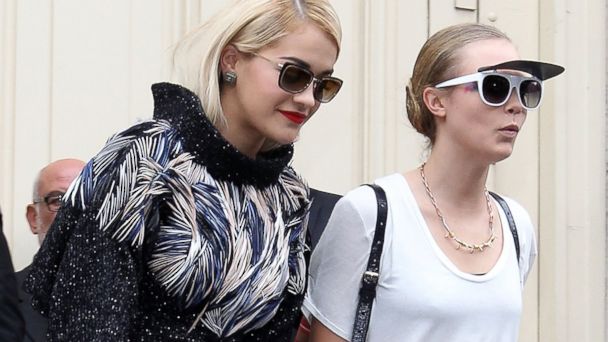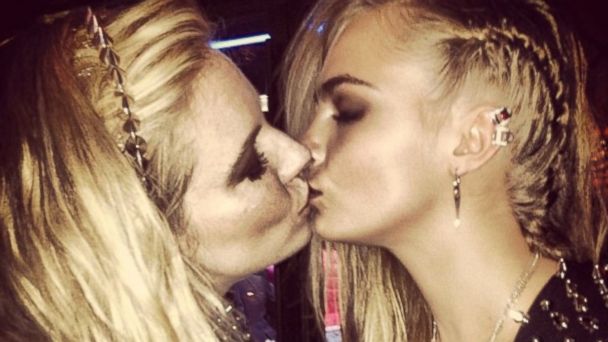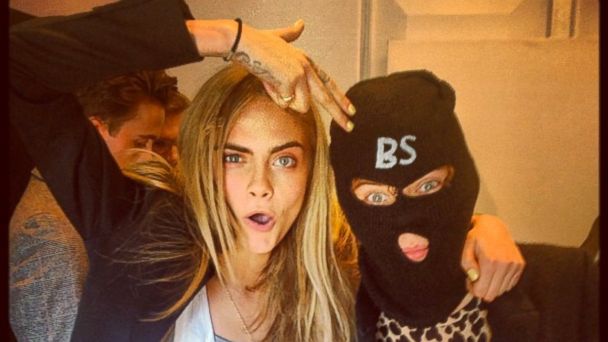 Cara Delevingne, who was discovered by the same modeling scout who found Kate Moss and has been making quite the name for herself since popping up on the scene just a few short years ago, has also been seen out with a lot of other famous folks recently, like Rita Ora, Sienna Miller and her rumored boyfriend Harry Styles (from One Direction).
But out of everyone, it seems like she's the closest with Rihanna.
According to Grazia Daily, after meeting each other backstage at a Victoria's Secret fashion show, the two hit it off, and have been friends ever since.
"I went up to her and was like, 'Maaam, you are so amazing, I love you, you look so hot out there performing. You put us all to shame,'" she said. "Then I slapped her on the bum."
After that, Delevingne traveled with Rihanna during the Eureopean leg of her "Diamonds" tour and even went with her on a vacation to Monaco and to her native country Barbados.
Now, if that's not BFF status, we don't know what is!
[H/T: ABC News]
Be the first to receive breaking news alerts and more stories like this by subscribing to our mailing list.