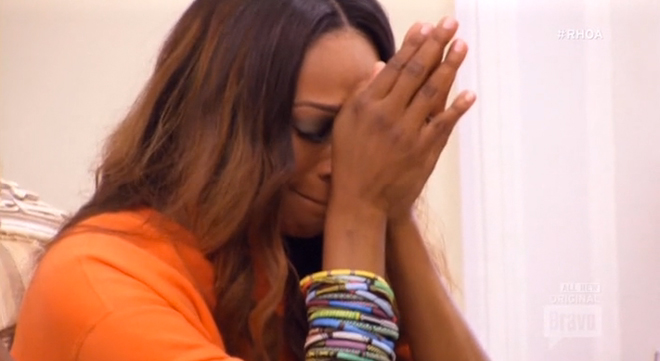 It finally happened: NeNe Leakes and Cynthia Bailey have an on-camera disagreement.
We got a taste of the ladies' differing parenting styles when NeNe clucked her tongue at Cynthia for being receptive to the idea of her daughter, Noelle, having a boyfriend.
Yes, the woman who ended up as a stripper is lecturing Cynthia about drawing a firm line in the sand and preventing her daughter from being loose. NeNe is throwing boulder-sized rocks in that glass house.
The topic of Noelle's boyfriend re-emerged again during the ladies' breakfast as Cynthia relayed the issue to the other ladies. Everyone sat attentively as Cynthia explained her rationale for allowing Noelle to date, (i.e. she'd rather her daughter be upfront and honest rather than sneak behind her back) and NeNe felt the need to interject her "mama don't play dat" line of thinking once again.
NeNe repeated that she felt 13-year-olds shouldn't be dating and that Cynthia was wrong for encouraging the relationship. In the confessionals, SEVERAL of the ladies checked NeNe, including Cynthia herself who said she'd rather be picking up Arthur than picking up a grand baby. Oop!
That sounds like a read to Miss NeNe and her ne'er-do-well son Bryson who dropped a bomb on his mama by impregnating his girlfriend a few years back. We won't even get into the criminal theft charges that fool racked up, but suffice it to say, for all of NeNe's talk about believing in a strict discipline environment for children, it's clear that approach couldn't save her son from himself.
NeNe then moves on to talk about girls these days are fast and they like to twerk and tempt the boys and Cynthia crows that she goes crazy when it comes to Noelle and before you know it, she's in tears, bawling at the table.
I think this is one of those instances where editing kind of confuses things. Because it sounds like NeNe was talking about young girls in general and not Noelle, but Cynthia seemed to take all of the commentary as a direct stab at Noelle.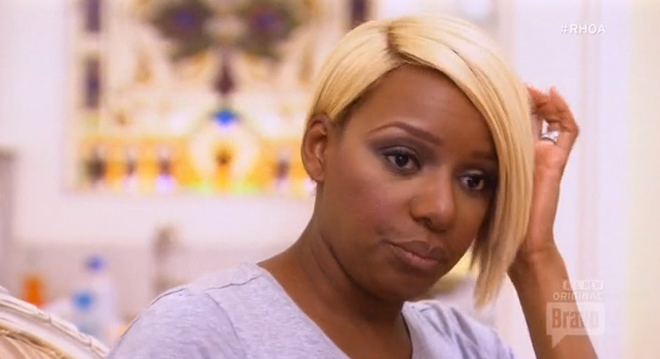 Either way, everyone was pretty shocked by Cynthia's outburst since she is usually pals with NeNe. Porsha and Kenya scurried off after Cynthia and consoled her. Both ladies did their best to reassure and reaffirm Cynthia as a mother. Kenya of course had to make it about herself by pointing out that she herself lacked any kind of meaningful relationship with her mother, and blah, blah, blah. We got it, boo. Yo' mama was a shady bitch. Stop telling us that damn story over and over again.
After Cynthia's outburst, NeNe tries to rally the other girls behind her, but Kandi and Phaedra don't back her up. Kandi agrees that NeNe is entitled to her opinion, but perhaps they just shouldn't discuss each other's children at all to avoid incidents like this in the future. Good call, Ms. Buruss.
Later on during the episode, NeNe floats into Cynthia's room and ki-kis with her trying to make light of the situation. Cynthia and NeNe playfully banter with each other but Cynthia doesn't back down from the fact that she feels confident that the choices she's making for her daughter are the right ones. The fact NeNe is unable to issue a sincere apology for hurting her friend's feelings shows that despite all of her so-called growth, NeNe still has some work to do.
The Queens Come Out at Night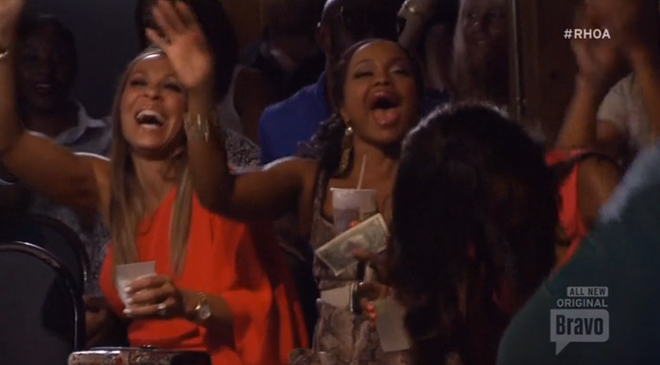 The original plan for the ladies was to stay in and cook for each other all day. But after Cynthia's boo hoo episode, NeNe decided they needed to hit up the gay club and check out a good ol' drag show.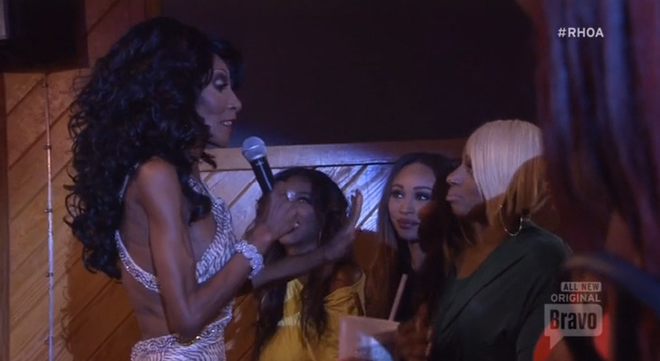 That's when we're introduced to Lady Chablis, who is apparently some kind of legend in the draq queen scene. But to my eyes, she is the most anorexic female impersonator I've seen since Ally McBeal. Her cleavage was nothing more than a showcase for her rib cage and her arms looked like they plucked from a Somalian refugee.
But she had a filthy mouth and a snappy attitude, which is all that's required of a good drag queen.
NeNe was the most turnt up during the visit to the gay club. She threw Mynique under the bus again by asking Lady Chablis to teach Mynique how to read, since she's half-white. This was meant to offer Mynique an opportunity to get some more camera time, but she was dull and uninteresting so that turned out to be a waste. I have a feeling that Mynique probably won't make the cut as a full-fledged cast member next season.
All in all, this was a very feel-good segment as the ladies all walk away in a good mood and feeling closer than ever. For once, these girls went out without drama erupting in their faces.
The Flying Roach Interrupts Dinner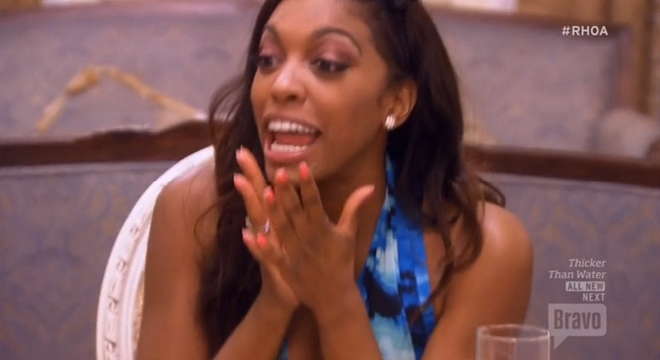 After a night out on the town, the ladies return to their mansion to finish the good and hearty Southern meal that Phaedra and Kandi prepared for the girls. Everyone dug in and Porsha brought up the fact that she considering reaching out to Kordell. She confessed that she had already texted him and he responded.
The girls went wild.
Porsha texted him asking if they could and Kordell responded that he could, but he wanted to know what she wanted to talk about. Porsha asked the girls how she should respond and Kandi snatched her phone from her and sent Kordell a one-word response: Us.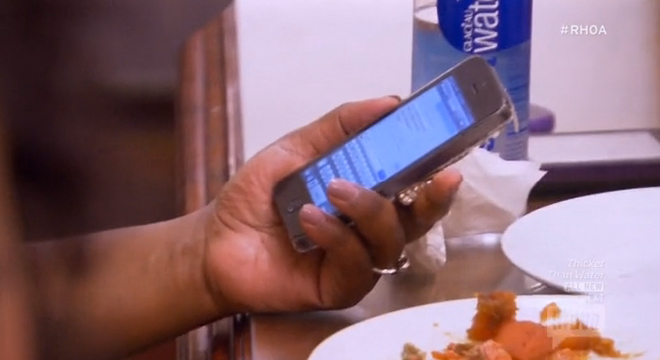 Kandi cooly announced that she'd sent the response to Kordell while Porsha was actively soliciting potential responses to Kordell which sent the whole room reeling. Kandi don't play no games, y'all.
After the Kordell fun was out of the way, Kandi began explaining to the girls that she was in the midst of planning a musical play. Kandi asks the girls if they'd be interested in participating in the production but before she can get all of their responses, a flying roach is spotted and time suddenly comes to a complete halt.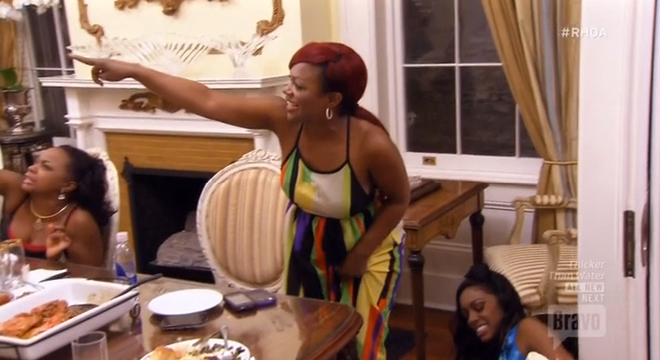 The women squeal and scatter at the sight of the roach and somehow, Kenya and Porsha team up as the "Roachbuster" squad to kill this thing.
Amazingly, they both prove quite adept at bug extermination.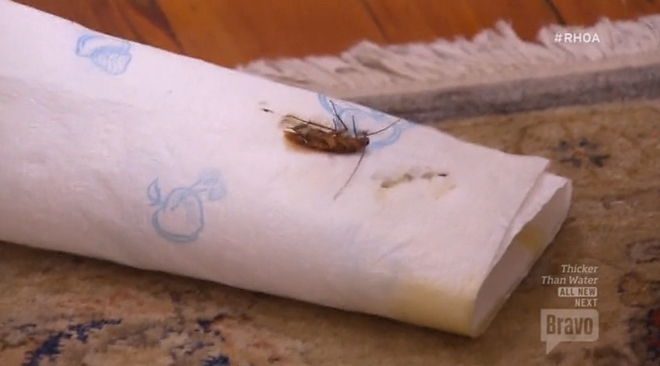 Guess it takes one (pest) to know one, huh?
Following the roach incident, the girls sit together and recap the weekend. NeNe compliments Porsha and Kenya on overcoming the hurdles in their relationship, and while Porsha launches into one of her boring "I love you all" speeches, when NeNe interjects that Porsha hasn't been good about answering her phone or texting back.
Um, well, damn. Why you care so much, NeNe? You're the one who always goes on and on about how none of these girls are your friends any damn way?
Be the first to receive breaking news alerts and more stories like this by subscribing to our mailing list.