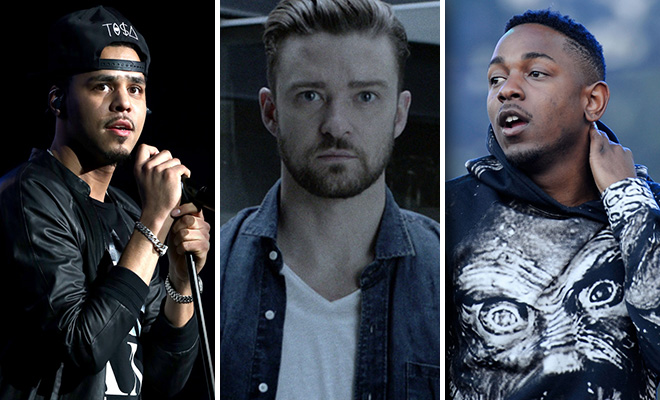 Sounds like J. Cole isn't letting Kendrick Lamar get away with dissing him in that infamous "Control" verse released a few months back.
On Justin Timberlake's "TKO (Black Friday Remix)" featuring A$AP Rocky and Pusha T, the Roc Nation star lays down some pretty serious bars in response to K Dot's controversial verse calling out rap newcomers like Drake, Big Sean, and of course, Jermaine Cole himself.
Peep the lyrics below (emphasis ours):
Cole to the rescue, never save a ho
Hoes like to hide their behavior though
Thought you was a down ass bitch
'Til I found that shit a couple days ago
I was home alone, next thing I know
That long as verse from a song called "Control" was on
The room got nearer, the tomb got clearer
That's when I seen the shit playin' on your phone
Girl, what is that? A ringtone?
Shit, not you too
Man, that hype done got you too
Everybody and their momma gassed,
Even my momma asked what I'mma do
Decisions, decisions
In case this is war, then I load up on all ammunition
If a nigga want problems, my trigger's on auto
I'll make sure that nobody miss him
Now pack up your shit, you don't believe in me
I don't need you, I got me, bitch
Same nigga moved to NYC, bitch
Got a record deal and a college degree, bitch
Two gold plaques, I produced all the tracks
And I never ever ever leave no Jay Z, bitch
And after all that achievement
Real nigga never even went and got his teeth fixed
Now you try to play me, bitch?
I'll knock your ass out
Whew …. now that's cold!
A little late, on J. Cole's part, yes, but better late than never, right?
LISTEN TO THE SONG HERE:
Be the first to receive breaking news alerts and more stories like this by subscribing to our mailing list.