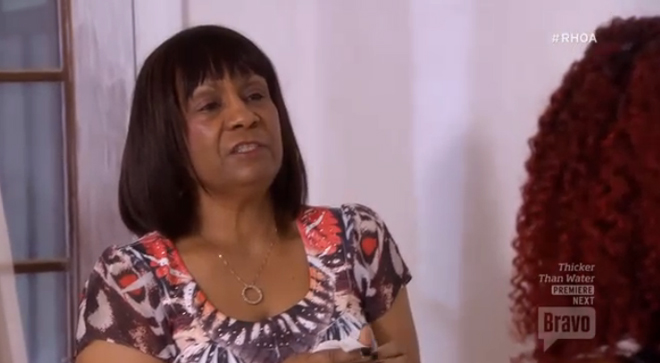 The pecking order on the "Real Housewives of Atlanta" pretty much starts with NeNe and ends with Porsha, but damn, maybe we need to need to reshuffle the deck after watching Mama Joyce come for Kandi in the 2nd episode of this new season.
Mama Joyce is NOT a happy camper about Kandi's boo thang Todd, because according to the streets, he ain't nothin' but a scrub.
The whole thing comes to a head when Kandi stops by her old house, which she gave to her mother, who is currently redecorating it. While the two walk through the house, Mama Joyce confronts Kandi about what she "heard in the streets" about her wedding to Todd.
What follows for the next 10 minutes is like fireworks on the Fourth of the July: Loud, disruptive and hot like fire.
Mama Joyce accuses Todd of being a no-good parasite, claiming that he lives on Kandi's dime and doesn't contribute to the household expenses. Then, she throws out the fact that the ring he bought for Kandi wasn't good enough. Only on "RHOA" will you find people claiming that a $10,000 ring isn't "good enough" for an engagement ring.
But the real killer was when Mama Joyce threw it in Kandi's face that her daughter, Riley, confided in her that she doesn't like Todd either. She just tolerates him.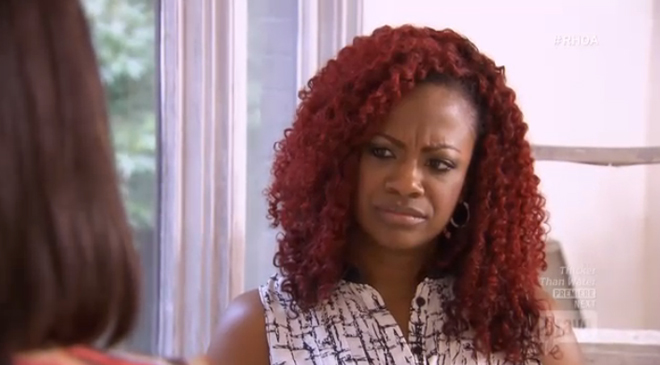 At this point, Kandi tears up as she does her best to defend her man against her mother's campaign of petty hatred. She claims that the three of them have a great time when they hang out together, so she doesn't buy the story Mama Joyce is selling.
While Kandi is attempting to project confidence, there's no denying that Joyce's comments got to her.
There's a thin line between a mother being concerning and being overbearing. While it's tempting to say Mama Joyce crossed the line, given Kandi's track history with men, maybe Mama Joyce knows what she's talking about just a little bit.
Putting Kenya in Her Place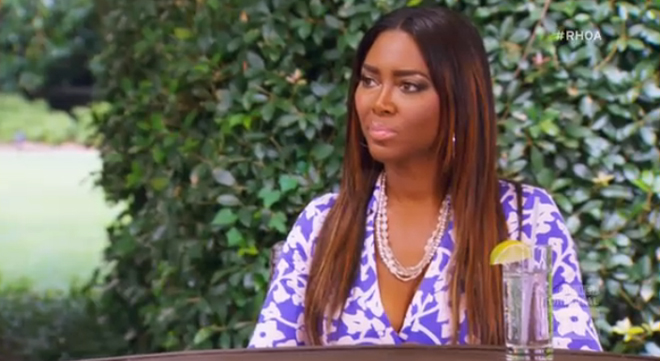 Kenya knows her crazy ass carried the show last season and now she's trying to redeem her bonus points for extra credit. But NeNe Leakes is back on the throne this season so she tamps that all the way down.
The two meet up for a lunch to follow-up on their clash at Cynthia's event the previous day. Kenya comes ready with her sad, sad story about getting evicted. She even manages to push a tear out of her tear ducts in front of NeNe. But NeNe don't play dat.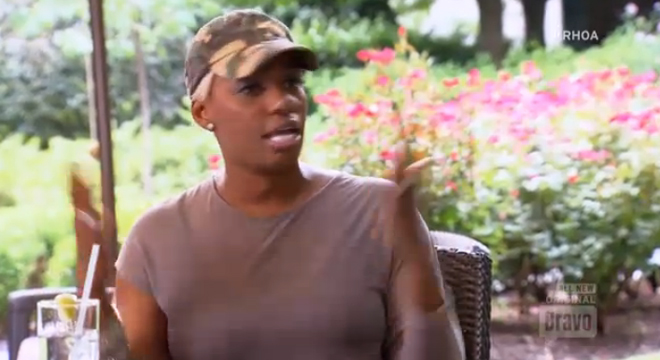 She quickly presses past Kenya's woe is me act and cuts to the chase: You need to act like a friend first if you want people to be a friend to you.
On that note, NeNe brings up the nasty accusation Kenya hurled at Phaedra during the reunion when she claimed that Apollo was sending her secret text messages. The accusation is so shocking that it has NeNe taking up for Phaedra, who she's been openly cold toward, on this issue.
In an attempt to bridge the gap between the two, (more like provide good fodder for reality TV but let's play along…) NeNe insists that Kenya attend a get together she's putting together for all of the girls.
Being the paranoid nut that she is, Kenya fears she's being set up, but NeNe assures her she'll have the opportunity to look as fabulous as ever.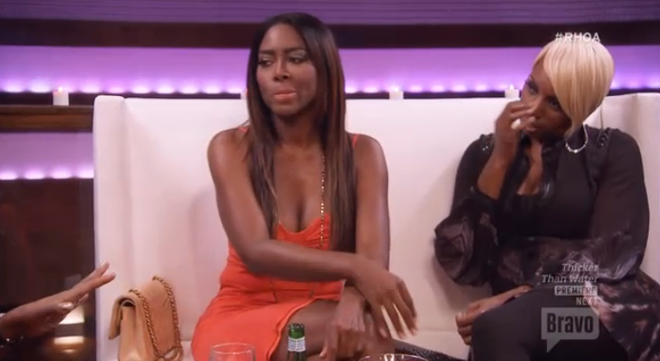 Once the whole squad is gathered, things get a bit more interesting.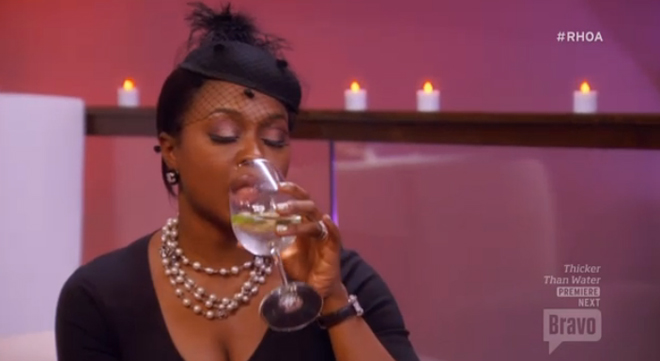 Phaedra is serving regal shade with her fascinator. She looks like she's there to attend the funeral of Kenya's relevance.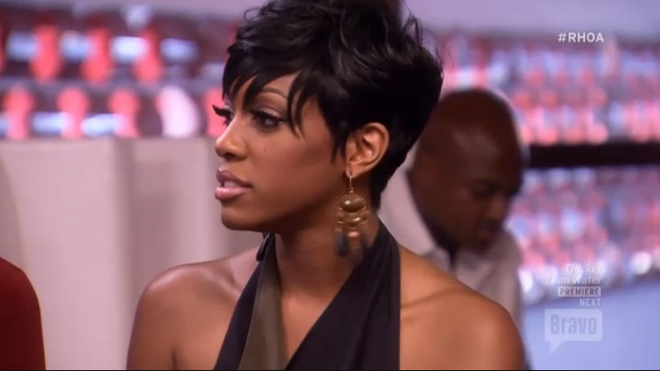 Porsha's sporting a new look too. It looks like a Barney Rubble wig. I think she was going for Halle Berry though. Try again, boo.
In typical Kenya fashion, she claims that her comments about the nature of her texting relationship with Apollo were taken out of context. It's a lie because Kenya purposely said that the texts between her and Apollo "started out friendly…" implying there was more to the nature of the texts than small talk. Phaedra lightly calls her out on this but doesn't press the point.
The real a-ha moment comes when Phaedra reminds Kenya that she alleged that Apollo might have HIV. The whole group acts SHOCKED, SHOCKED when Phaedra brings this up like they weren't all sitting around the couch when Kenya dropped this loaded bomb during the reunion last year.
Bravo producers are kind enough to roll the tape to back Phaedra's claim up.
Oop. I guess Phae-Phae made sure to bribe a few key members of the production staff this year cause she's coming off flawlessly so far.
Porsha's Yabba Dabba Doo self tries to jump into the mix and Kenya rolls her eyes and tries to brush her off as a pawn of Phaedra. That's when Porsha loses it and talks about how she is going THROUGH IT right now with her divorce and she could be at home rather than at this club trying to sort through this petty woman shit.
Fair enough, but she's getting paid to be there so the whole talking point is a bit moot. But it was sassy though, I'll giver her that.
In the end, Phaedra and Kenya don't really make up, but they agree to tolerate each other's presence for now. Hooray for progress.
Cynthia Battles Fibroids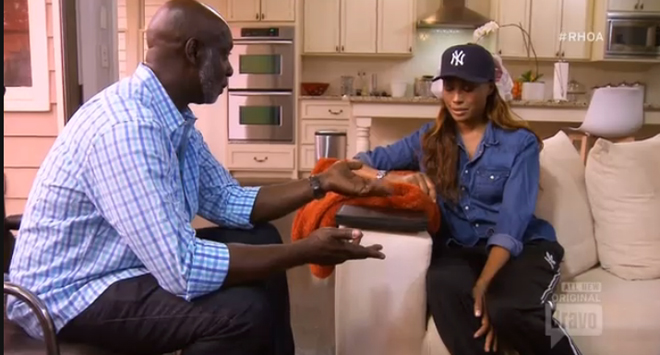 Last season, doctors followed Kenya as she underwent breast cancer testing and this season, the woman with the health narrative is Cynthia.
In a personal and revealing scene, Cynthia explains how her expanding fibroids have made her menstrual cycles painful and unmanageable. They've also had the unfortunate side effect of making her look pregnant, which more than a few bloggers pointed out to Cynthia in recent articles.
Her concerns about the fibroids have gotten big enough that she's now considering surgery to get them removed. So off she and Peter go to the doctor.
During her consultation, Cynthia reveals that the heavier, bloodier periods associated with her fibroids have dampened her sex life with Peter. Poor Peter pipes up like a starved puppy. When the doctor confirms that Cynthia is a candidate for treatment of the fibroids, Peter damn near does a backflip because it hopefully means an end to his sex drought.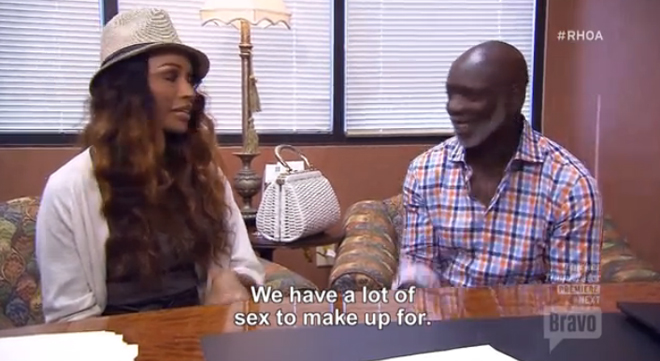 Truth be told though, Cynthia don't look like the type to screw your brains out, but hey, beggars can't be choosers.
Be the first to receive breaking news alerts and more stories like this by subscribing to our mailing list.