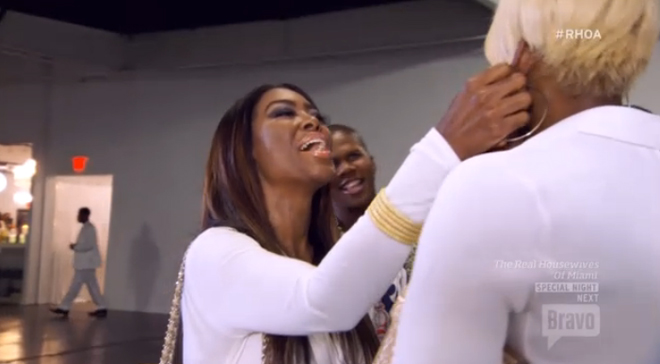 Kenya Moore is the definition of the phrase: She tried it.
Her brash, outspoken and fearless behavior is part of the reason why she's so compelling to watch. Yes, much of what she does is contrived and purposely built for drama, but that doesn't make it any less fun to watch.
And trust, that's a huge feat because there are a lot of people who try to put on a show but aren't worth watching (i.e. the whole case of "Real Housewives of Miami").
But Kenya went and pulled the tiger's tail in the sixth season premiere of "Real Housewives of Atlanta" when she went up to NeNe and confronted her about her decision to invite Walter to her fabulous Leakes wedding.
"I want you to listen, Nene," Kenya said as she foolishly reached out and tugged on NeNe's ear.
Look, the fact that NeNe cooly removed Kenya's hand from the side of her face without clobbering her psycho ass is a huge testament to her growth as a human being.
Kenya had NO business putting her hands on NeNe's person. NeNe is a grandmother. She does not need a 40-something, never-wedded, often-bedded Beyonce-wannabe gettin' froggy with her.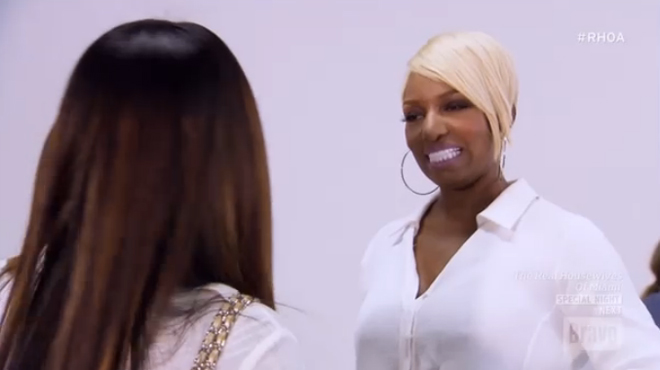 With regard to the Walter situation, Kenya, however, has a point: NeNe purposely invited Walter because she knew it would rub Kenya the wrong way.
When Kenya cornered NeNe and asked her if she invited Kordell to the wedding, NeNe punted and said she invited Porsha and a "plus one." Right.
NeNe also claimed that Walter was invited because Gregg likes him. Well, Gregg likes Kordell too. Why didn't Mr. Stewart get an invitation like Walter?
On the other hand, Kenya needs to get over Walter being around. First off, these girls aren't your "friends." They're your cast mates. Their only obligation to you is to work with you to create an entertaining TV show.
Beyond that, they owe you nothing. So stop expecting them to look out for your best interests and feelings.
In the end, the confrontation is all for naught as NeNe gives Kenya a "Girl, Bye" and heads off with Peter, leaving Kenya in her dust. This, however, is just round one in what I predict will be a series of clashes between NeNe and Kenya.
Porsha's Gon' Cry and Cry Over Her Failed Marriage All Season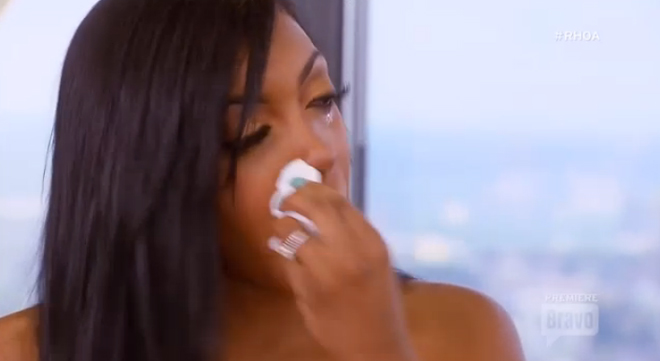 The divorce to her soon-to-be ex-husband Kordell Stweart is the best thing to happen to Porsha's reality TV career since she was cast in the show.
Last season, aside from her rivalry with the much-older Kenya Moore, Porsha was an uninteresting shell of a woman.
But now that her so-called fairytale marriage has turned into a nightmare, Porsha's suddenly a lot more interesting to watch.
In scene after scene, we witness Porsha bemoan her failed marriage. First, she weeps with her attorney as she retraces what went wrong.
The waterworks really come on when she asks the attorney if she can write a list of demands that Kordell must meet in order to reconcile their marriage. Yes, because an ultimatum always goes over well in bitter disputes.
As was to be expected, Kordell rejected Porsha's so-called list and the divorce moved to deposition and a hearing. We don't get to see the actual deposition, which is weird since you know it was recorded anyway, but we do catch up Porsha post-deposition as she fills in her mother and half-sister Lauren.
I know Lauren is Porsha's half-sister, though I don't know if she's a half-sister because they have the same mom or dad, because Bravo makes sure to label her as such whenever she's onscreen with Porsha.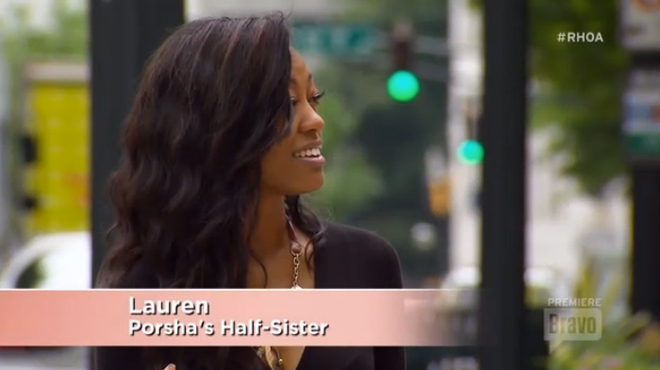 This is shady. There's no reason to refer to her as such unless their half-sibling relationship played some part in their relationship or Porsha's storyline. Otherwise, she's just Porsha's sister.
Anyway, back to the unfolding drama about Porsha's once-happy marriage. As is to be expected, Porsha finds a sympathetic ear as she regales her mother and sister with the play-by-play of what went down during the deposition.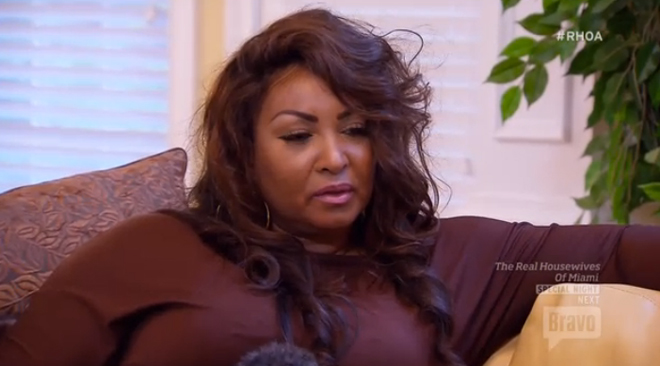 Porsha's mama, who has clearly been holding back, pipes up that Kordell is "not a normal man." She then claims that he was using Porsha and plied her with cash and fancy things to boost his image. She then openly wondered what other ways he was using Porsha to boost his image.
As if to defend itself from a lawsuit, Bravo then interjects these veiled accusations of homosexuality with a confessional scene in which Porsha explains that she was confronted with rumors of Kordell's alleged homosexuality before by her family members.
She claims that she believed him when he said he wasn't gay, but she had moments of doubt, saying that there were times when he didn't want her physically.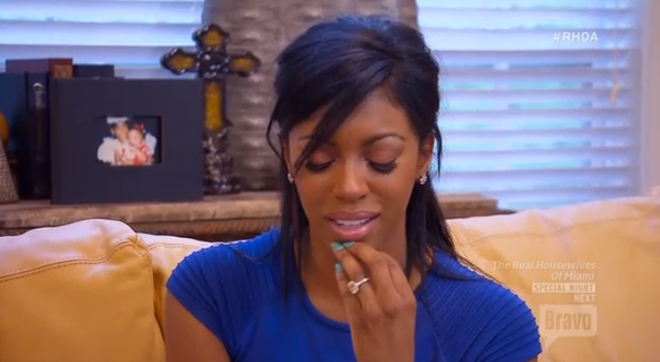 It's hard to really know what to do with this tidbit of information because we know they slept together before, because Porsha was at one point pregnant with his child. And if Kordell refused sex with Porsha because he was angry with her, that doesn't make him gay.
Black women, for some reason, have it in their minds that they can behave or treat a man however they want and then throw the puss at him and make it all better. While it might work a lot of the time, it won't work all of the time. But that doesn't mean the man is gay.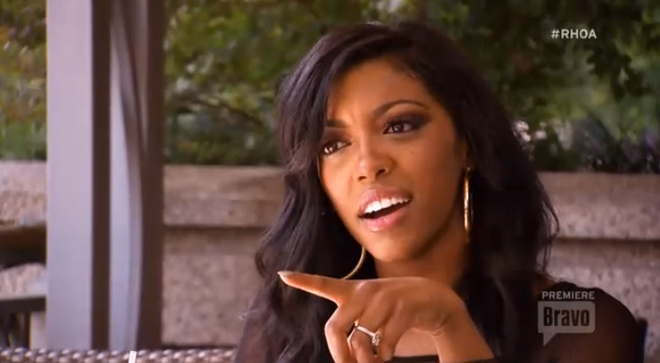 Throughout the episode, the ladies ask Porsha about how she's handling the situation. NeNe attempts to provide Porsha with sisterly advice over lunch and she seems to reassure Porsha in a positive and affirming way.
But Kenya, who wouldn't know tact if it walked up to her and twirled "Gone with the Wind Fabulous" style in her face, clumsily interrogates Porsha about if she and Kordell will likely get back together. Girl, have a seat.
If you're sick of Kordell and Porsha talk after this episode, you might have to take a time out. This storyline is gonna be dragged out all. Season. Long.
Kenya's Strange Face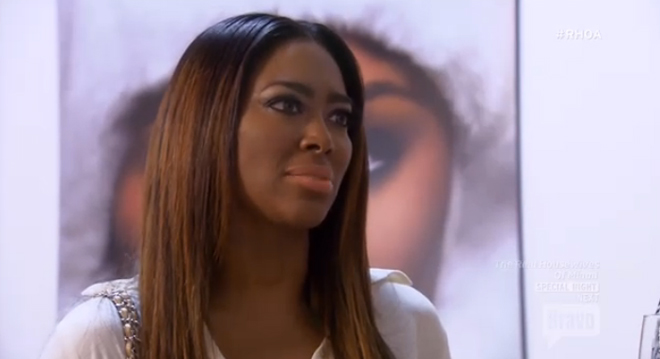 After that whole Walter fiasco, word on the street is that Kenya's dating some African oil billionaire. Spending more time in Africa would perhaps explain why Kenya looks about 5 shades darker than she did last season.
But besides the darker complexion, it looks Kenya had a lot of nipping and tucking done. Her lips look fuller and her face look tighter than a trampoline. Kenya maybe should've let her face settle a bit more before getting on camera. She was looking like the Joker. No lie.
Cynthia Bailey's Downgrade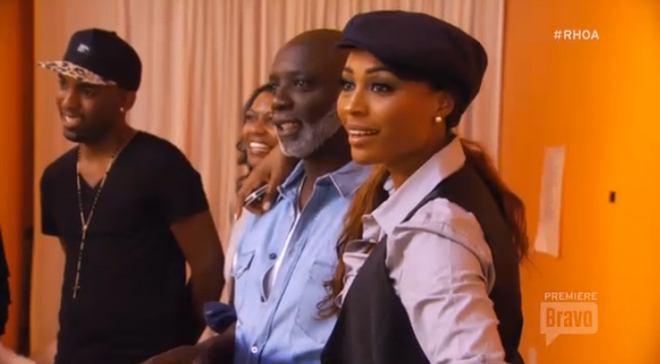 I have to hand it to Cynthia Bailey. She has emerged as the center of gravity in the otherwise wacky world of RHOA. She plays peacemaker between the rival gangs and she's always eager to put something behind her.
She's also the queen of playing off her broke life. When she first got on RHOA, she was so broke she had to beg her mama to pay her open bar tab for her wedding for $2,000 something dollars. And when Peter's last club went belly-up, Cynthia tried to make it seem like it was impossible for the same thing to happen with his new venture, Bar One.
The Bailey Agency, which veered all over the place from offering modeling classes to putting on a two-bit pageant, is moving from its downtown Atlanta location to a building that Peter owns across the street from Bar One.
Cynthia and her hubby portray this as an "upgrade," claiming that the agency has outgrown its downtown space. Really? Moving to an unfinished, empty warehouse that's far from the urban pulse of Atlanta is an upgrade?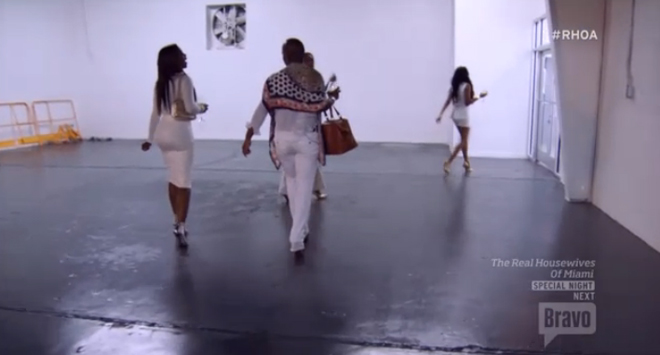 Cynthia tried it. She knows that moving to Peter's building cuts down on her expenses since she probably doesn't have to pay him rent and since it's in a less desirable part of town, even if she does pay rent it's likely cheaper than what she was currently paying.
The producers must be particularly pleased with Cynthia if they let this go completely unchallenged. Or maybe Cynthia is so well-liked, no one wanted to throw their friend under the bus. Guess it does pay to be nice once in a while on reality TV.
Be the first to receive breaking news alerts and more stories like this by subscribing to our mailing list.