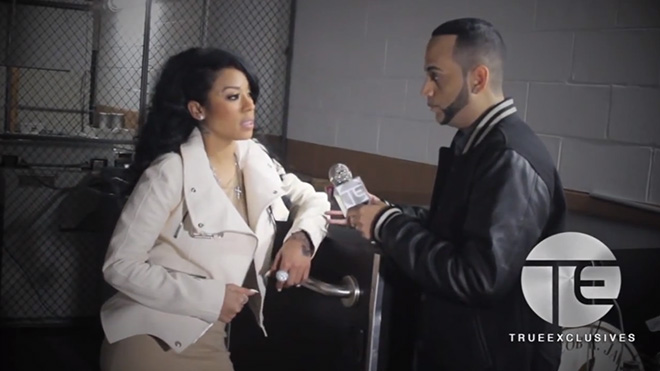 In a new interview with True Exclusives, Keyshia Cole addressed mending her rift with Destiny's Child member Michelle Williams, spoke on rumors of separation with her husband, and unveiled plans for both a new album and a mixtape.
Now that Keyshia has explained what sparked her comments about Michelle, I can understand why she went out of her way to take a shot at the DC3 member.
Could she have kept that to herself? Yes, and that would've been the best choice, but it's done now and hopefully she learned from it. Still, Michelle could've acknowledged her own wrong-doing in the manner before speaking on it being settled.
In any event, here are some excerpts:
On ending her beef with Michelle Williams:
You know, she said some thing to me while I was on stage [performing at the Soul Train Awards.] It's fine. Me and Michelle spoke about it and she erased the tweet. She apologized for saying it because she said somebody else had tweeted about it but she wasn't watching or something like that. So, it's cool. It's over with. We've moved on.
On the rumors that her marriage is ending:
We're good. We're chillin'. We have a kid. We're married. So it's all love.
On if she'll ever do reality TV again:
It depends. I want to but we have to make sure that it's done correctly, but we have to make sure that we get paid. So it's just very minor details. [Sidenote: Keyshia previously tweeted that she never got paid from BET for her reality show with Booby.]
As for the mixtape, she's working both that and the album now.
CATCH THE VIDEO UP TOP!
[H/T: Necole Bitchie via True Exclusives]
Be the first to receive breaking news alerts and more stories like this by subscribing to our mailing list.