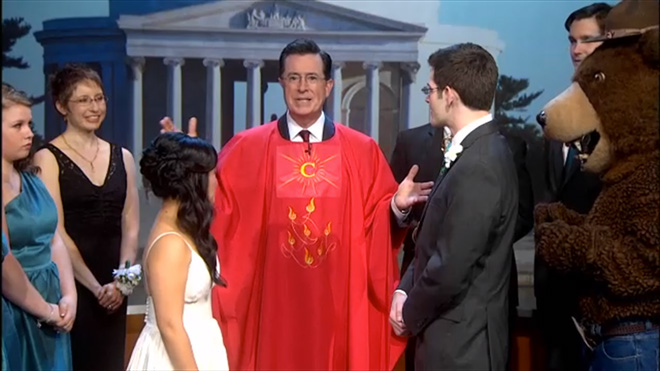 If there's one good thing about the is whole Government Shutdown nonsense, and there's ONLY one good thing about it, it's how much fun "The Daily Show" and "The Colbert Report" are having mocking it.
We've seen several side-splitting rants from Jon Stewart and this week, Stephen Colbert took it upon himself to help a couple whose D.C. wedding ceremony was canceled as a result of the shutdown.
The funnyman, who just so happens to be an ordained minister (true story!), decided to host the couple's wedding on his show. The hilarity that follows is not to be missed.
The couple, Mike Cassesso and MaiLien Le, were wed in front of a cheap Lincoln Memorial backdrop and Smoky the Bear was there, since the shutdown has put him out of work.
In classic Colbert fashion, the Emmy-winner makes the entire event about him, telling the bride to be not to "ruin this for me!" and that he has been dieting for "like 15 minutes" in preparation for it.
The real treat is when Colbert brings out Mandy "national treasure" Patinkin to sing a Jewish prayer, which he turns into a deadpan plug for the new season of "Homeland."
The bizarrely funny segment concluded with Broadway sensation Audra McDonald belting out  a show tune rendition of "White Wedding" as the couple danced.
Shots!!!
WATCH BELOW:
Be the first to receive breaking news alerts and more stories like this by subscribing to our mailing list.