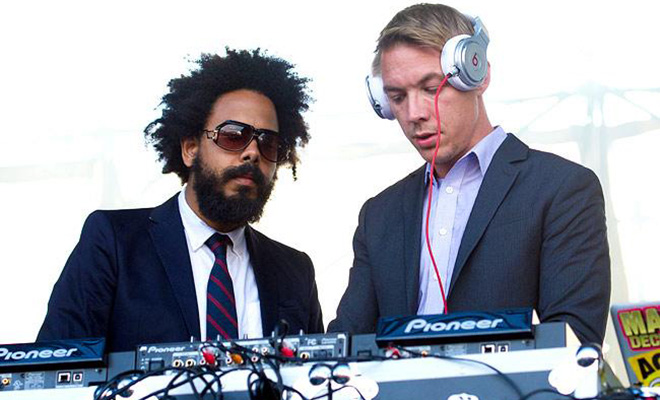 In let's not be idealistic, but realistic news, members of Major Lazer have suggested another way of combating the recent drug-related deaths at various music festivals held this year: teach kids how to do drugs.
The crew made the somewhat controversial comments in an interview with Rolling Stone.
Even though I wrote a speech in for D.A.R.E. about the perils of drug abuse back in fourth grade, I can't completely suggest it's a stupid idea. You know, besides it giving me the creeps all the same.
According to Jillionaire, the problem could stem simply from drug inexperience. "It's going to sound weird, but we need to teach kids how to do drugs, the same way we teach them about drinking responsibly and having safe sex," he said.

"If you're going to go to a festival, drink water for six days before you get there; don't drink no alcohol. If you're going to do a pill and a half, don't do four more and then pass out, overheat, and die of cardiac arrest. Instead of acting like drugs don't exist, acknowledge that drugs will be at a festival and address them.

"We're such a conservative culture that we'd rather not talk about the things kids want to do, even though they're going to do them anyway," Diplo said. "We'd rather ignore it to solve the problem. In Florida, where I'm from, drugs have been a part of club culture since day one.

"Kids have always been going to raves in the woods. 20 years ago, Orlando was one of the first places to have rave culture, and we learned how to do drugs. It's going to happen; you can't control it.

"Persecuting a festival is not going to help it because kids are going to do them regardless. Hell, they'll do them in their houses. That's why crystal meth is a problem in America

"Drugs are a big problem in America, because we have money to spend and a culture that wants to be turnt up all the time."
Again, I hate the pro-Molly culture a lot of that dance and club culture perpetuates, but they make a good point about people doing whatever they want to do anyway.
What do you think?
Be the first to receive breaking news alerts and more stories like this by subscribing to our mailing list.