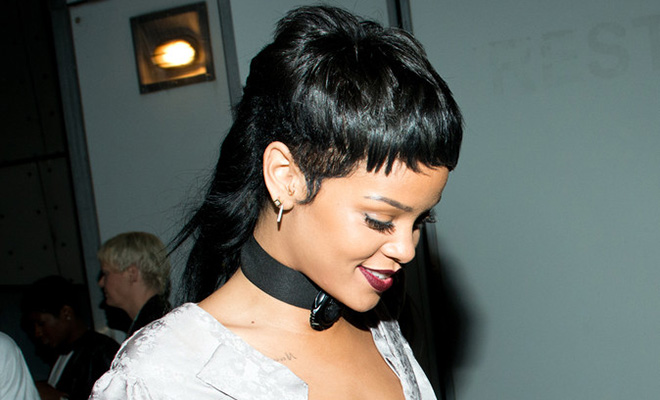 Our Lady of Inebriation, Rihanna, was reportedly too "f*cked up" to pose with an eager fan at the Alexander Wang party over the weekend.
Rihanna, who at this point is known for being drunk and occasionally but typically friendly with her Navy, couldn't be bothered this time. To her credit, she was painfully honest as to why.
Via The New York Daily News' Gatecrasher:
Rihanna refused to pose with a fan at the Alexander Wang party, saying she was 'too f**ked up and drunk.'

One female admirer told the star how sexy she was and asked if she could have a snapshot with her. The "Umbrella" singer refused, pushing the girl and telling her defiantly, "I am just chilling, I am too f**ked up and drunk, no pictures."
Normally, I'd take the side of the artist who deserves an off night when they can get one. I still maintain that stance, only damn, girl, did you have to push her?
There's a way to handle a situation: you get your body guard to push them for you. I'm half-kidding; that would still be trife.
But really, though, Rih-Rih, I get that you need a break, but learn to keep your hands to yourself, sis. If I were that fan I'd bootleg your albums for the rest of my life.
You better send that girl a sweet tweet or something, Belligerent Barbadian.
Be the first to receive breaking news alerts and more stories like this by subscribing to our mailing list.