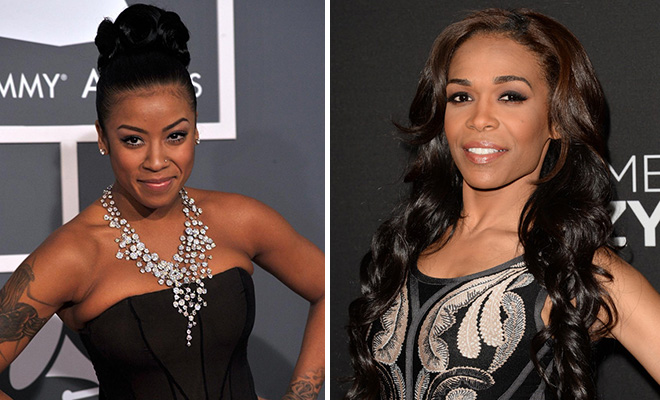 Keyshia Cole has finally apologized to Michelle Williams for dissing her earlier this year on Twitter after the Super Bowl.
Or did she?
In case you need a quick memory refresher, after Michelle appeared onstage alongside her former Destiny's Child bandmates Beyonce Knowles and Kelly Rowland during Beyonce's Super Bowl Halftime Show performance back in February, Keyshia Cole launched a series of verbal attacks at Michelle.
Though she praised Beyonce's performance overall in one tweet, she said this about Michelle:
"I think I was frightened to blink for a sec. Then Michell(e) sung and woke my ass up from my daze! She always f*ckN the groove up."
A few days later Cole explained that Williams was the one who started their one-sided feud when she commented on Cole's Soul Train Awards performance a few months prior.
In response to Michelle saying she didn't care about what Keyshia thought of her Super Bowl performance, Keyshia said, "Sounds about right! Cause I didn't give a sh*t what she thought about my soul train performance when she spoke her sh*t."
Cole's comments of course backfired and she spent the next few weeks of her life going back and forth with angry Beyonce/Destiny's Child stans on Twitter.
Fast forward to about seven months later, and in an interview with a Philly radio station, Williams was asked about her "beef" with Cole.
"I don't even do twitter beef," she said, adding that the tweet Keyshia Cole referred to when she said Michelle 'started it' didn't come from her account. "I can't wait to see her in person so we can talk and say 'hey what happened?' because I will say this. I was a major fan of hers."
Williams also addressed Cole's comments once again in a subsequent interview with Huffpost Live, albeit reluctantly, saying that she was hopeful for a resolution between them.
"I don't like indifference. I like to get to understandings, I'll say that," she said. "Just with anything, I like to get clarity. 'If I offended you, I'm sorry.' Or just, 'Hey, what happened?' I want to have those moments with anybody that feels a certain way."
Well, Keyshia must have been watching Michelle on HuffPost Live, or maybe she heard her interview with Philly's Hot 107.9, or possibly both, because on Sunday (maybe she went to church too?) she wrote on Twitter: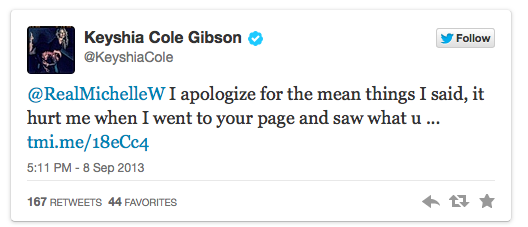 And Michelle responded with this:
Apology accepted @KeyshiaCole! We had an amazing conversation and I also say sorry for ANY misunderstandings! I'm so happy this happened!

— Michelle Williams (@RealMichelleW) September 8, 2013
So with that, you would think that the "beef" between the ladies would be over right?
Nope. Apparently, either Keyshia doesn't know how to just leave well enough alone, or Michelle's apology acceptance wasn't enough for her, or maybe both, because right after Michelle tweeted, Keyshia followed up with this: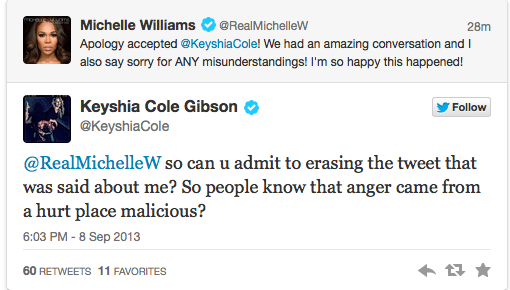 GIRL … STOP!
Michelle Williams — who CLEARLY said in her interview that the "tweet" Keyshia is referring to was from a FAKE ACCOUNT — has yet to respond to Keyshia's last tweet, and BOTH of Keyshia's tweets have been deleted. So she really didn't even "apologize" at all in the first place then, did she?
Keyshia should watch this video:
[H/T: TGJ]
Be the first to receive breaking news alerts and more stories like this by subscribing to our mailing list.