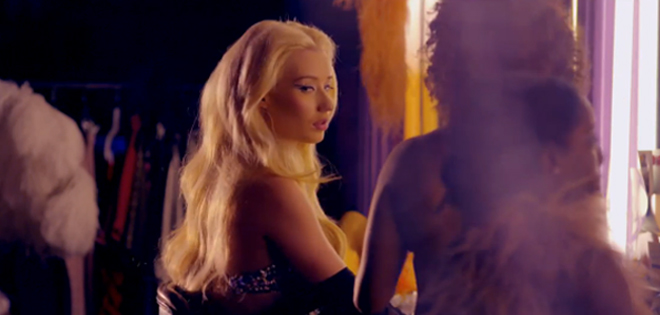 While Azealia Banks is off firing shots at Lady Gaga on Twitter, Iggy Azalea is hard at work putting in that work.
Her latest video, "Change Your Life," features her mentor T.I. and showcases her, um, assets. Did I mention that it's also a send-up of Elizabeth Berkely's cult film "Showgirls"?
The video pushes boundaries but doesn't quite veer into the NC-17 territory of the film it took inspiration from. Still, watching Iggy spread her legs for Tip on the hood of a car is a bit of a "whoa, there" moment. You know Tiny had to be mad about that.
The song is actually really catchy too. Coupled with the high-production value of the video, I'd say Iggy's got a winner on her hands. If she can convince urban radio to throw a few spins her way consistently, she might have a shot at becoming the legit Feminem we've all been waiting for.
WATCH IGGY'S VIDEO UP TOP
Be the first to receive breaking news alerts and more stories like this by subscribing to our mailing list.