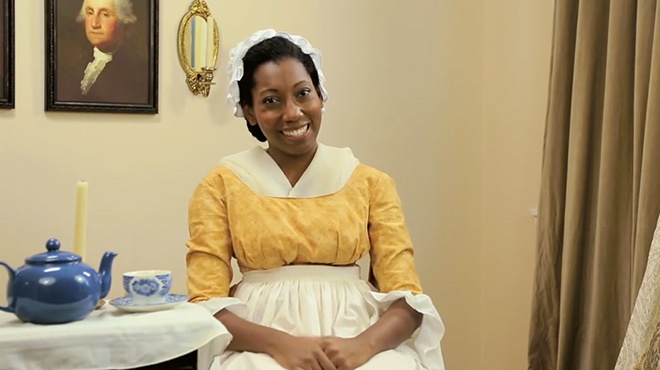 Actress/comedian Azie Mira Dungey used to work as a living history character at President George Washington's Virginia Plantation Mount Vernon, where she played the role of a slave named "Lizzy Mae."
After years of answering real stupid questions from actual stupid tourists, Dungey and director Jordan Black have put together a fantastic comedy web series called "Ask A Slave" that is both hilarious and horrifying all at the same time.
It's hilarious because it shows just how clueless some people can really be, but then it's also horrifying because it exposes the ignorance and disrespect Dungey faced every day, which without question, pales in comparison to what real slaves went through in the 1800's, yet that doesn't make it any less upsetting.
On the "Ask A Slave" website, Dungey — who calls herself a "time-traveling black girl" because she's played "every black woman of note that ever lived, from Harriett Tubman… to Caroline Branham" (one of the women who "Lizzy Mae" is based upon) — says that she started getting the idea for the series around the time Barack Obama was first elected President.
Studying American history and the lives of these women, while virtually living in their heads and experiences each day, made me feel like I was in some sort of twisted time warp. This was also the time of Barack Obama's first term in White House and his subsequent run for a second term.

I ask you to remember the racial tension that was all around. We had people saying that the President would be planting watermelons on the White House lawn. Emails were forwarded proclaiming that this was the beginning of a race war and the end of the country as we know it. People bought guns. (A lot of guns.) A scientist reported the evolutionary explanation as to why black women were the least attractive of all the races. The Oprah Show ended. It was mass chaos.

And in the midst of all this, I was playing a slave. Everyday, I was literally playing a slave. I mean, I was getting paid well for it, don't get me wrong, and we all need a day job. But all the same, I was having all these experiences, and emotions. Talking to 100s of people a day about what it was like to be black in 18th Century America. And then returning to the 21st Century and reflecting on what had and had not changed.
Another page on the website offers a brief history of what life was like for slaves at Mount Vernon, including the fictional character Lizzie Mae:
Lizzie Mae would have been one of 316 slaves that worked and lived on George Washington's five farms. About 98 of those enslaved people lived on the Mansion House Farm, the grounds of the mansion. Lizzie would have been one of about 12 who worked in the mansion. The rest of the people on her farm were working artisans: carpenters, spinners, weavers, laundresses, knitters, horselers, gardeners, and blacksmiths. A great number were also children, who would have worked in their own homes, caring for younger siblings and doing chores. Some may have also done menial tasks around the farm, such as fetching water from the wells, carding (cleaning) wool, or moving waste from the privies (outhouses).

Lizzie Mae would have worked very long hours, starting at about 4 in the morning and leaving the mansion at about 9 at night. As a house servant, she had very little time to herself and family, and almost no privacy. Most of her day would have been spent cleaning bedrooms, building fires, sewing clothes for  Mount Vernon workers, and tending the many guests that the Washingtons entertained. In one year, they had as many as 677 overnight guests.

Most people assume that working in the house was a position of privilege. While it may have seemed that way to the slave-owners, it is clear that the people themselves didn't share that point of view. The majority of Mount Vernon runaways were house servants.
Though her "Ask A Slave" web series is considered a comedy, Dungey hopes that it will "honor the memory of those people who struggled and survived through their uncanny intelligence, their strength, their love, and…laughter."
WATCH EPISODE 1 UP TOP AND EPISODE 2 BELOW:
New episodes are posted on Sundays! We'll try to keep this post updated as they come in…
[H/T: Jezebel]
Be the first to receive breaking news alerts and more stories like this by subscribing to our mailing list.