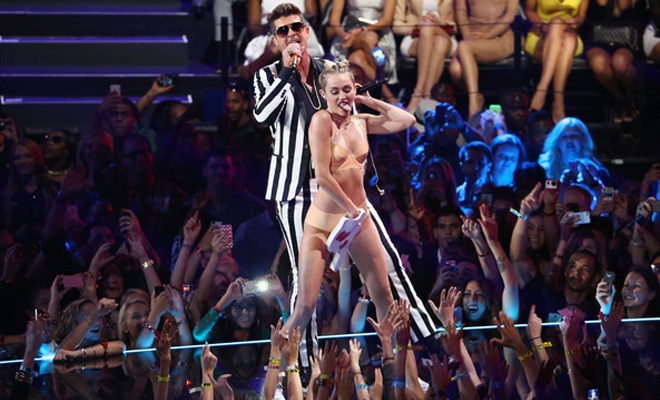 Robin Thicke is kind of having the best year ever. So why the hell did he decide to mess it up by dry humping on barely legal Miley Cyrus at the VMAs?
In a desperate bid to have her Britney moment, Miley Cyrus flapped her flat little butt cheeks on stage at the VMAs. She thinks she's twerking but she's really just over exerting her tailbone.
This was bad enough as is, but then Robin Thicke, who's 36 years old, comes out and DRY HUMPS 20-year-old Miley. On the list of MTV's Awkward VMA moments, this quickly shot up to the top 10.
Oh, and did I mention that Miley's voice sounded like a hungover, dehydrated, sea lion?
If Miley wants to shed her Hannah Montana image, being a trash bucket ain't the way to go about it.
WATCH MILEY AND ROBIN EMBARRASS THEMSELVES UP TOP!
Be the first to receive breaking news alerts and more stories like this by subscribing to our mailing list.