If you were alive today and didn't hear about Kendrick Lamar's verse on a new song Big Sean released called "Control," then you need more friends. It's all that's being talked about right now on Twitter, Facebook, Instagram, Tumblr, Vine, LiveJournal, you name it! Your grandma probably even heard about it. Where were you?
In the song, which by the way is not going to be featured on Big Sean's upcoming album 'Hall of Fame,' K Dot not only raps about being the "King of New York" — despite his humble upbringings in Compton, California — but he also talks about MURDERING (not literally … lyrically, of course) some of the very same people he calls "homeboys" in the rap game.
LISTEN HERE:
Kendrick, who was dubbed the "Hottest MC" by MTV in 2012 and also took over this year's BET Awards with his numerous nominations and wins, pulls no punches as he raps about stealing fans from some of Hip Hop's biggest names, including Drake, J. Cole, Meek Mill, A$AP Rocky, hell, even BIG SEAN, and it's his damn song!
The lyrics go like this:
"I'm usually homeboys with the same n*ggas I'm rhyming with / But this is hip-hop and them n*ggas should know what time it is / And that goes for Jermaine Cole, Big K.R.I.T., Wale / Pusha T, Meek Mill, A$AP Rocky, Drake / Big Sean, Jay Electron', Tyler, Mac Miller / I got love for y'all but I'm tryna murder you n*ggas / Tryna make sure your core fans never heard of you n*ggas / They don't wanna hear not one more noun or verb from you n*ggas / What is competition? I'm tryna raise the bar high"
Kendrick's words have sparked a huge reaction on social media and the Internet overall, with people saying it's the "verse of the year," and rappers and fans alike have been stating their opinion.
Missy Elliott thanked him for remind rappers to be "lyrical and have substance again," while Fabolous questioned the immediate availability of any studios. "I hear you loud and clear, n*gga," tweeted Pusha T.
Even NBA star LeBron James was tweeting about the verse:
This is real hip hop at his best! @kendricklamar boxed em into a corner. We going crazy over here people!!

— LeBron James (@KingJames) August 13, 2013
@DaRealMonieLove @Kendricklamar has Forced rap artist to have 2 be Lyrical and have substance again! This was so needed! Thanks Kendrick!

— Missy Elliott (@MissyElliott) August 13, 2013
Any studios open yet?

— Fabolous (@myfabolouslife) August 13, 2013
I hear u loud and clear my nigga… @kendricklamar

— PUSHA T (@PUSHA_T) August 13, 2013
KENDRICK!!!!! Ohhhh Shiiitttttt @RevoltTV

— Diddy (@iamdiddy) August 13, 2013
Lamar, a native of Compton, Calif., also called himself the "King of New York" in the track when he said, "I'm Makaveli's offspring I'm the King of New York/ King of the coast/ One hand I juggle them both" — to which New Jersey rapper Joe Budden responded (but later deleted):
"A Cali n*gga just said he's the King of NY & u n*ggas so f*cking worried about your relationships, y'all make me sick … Where's all NY!???!"
But while most are in pure awe over Kendrick Lamar's verse, not everyone is dazzled by the rapper's purported lyrical prowess, like Lupe Fiasco, who tweeted: "Y'all know y'all easily impressed. Bar so low you need a shovel to get at it."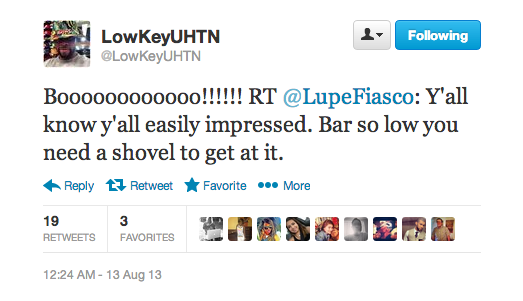 Be the first to receive breaking news alerts and more stories like this by subscribing to our mailing list.