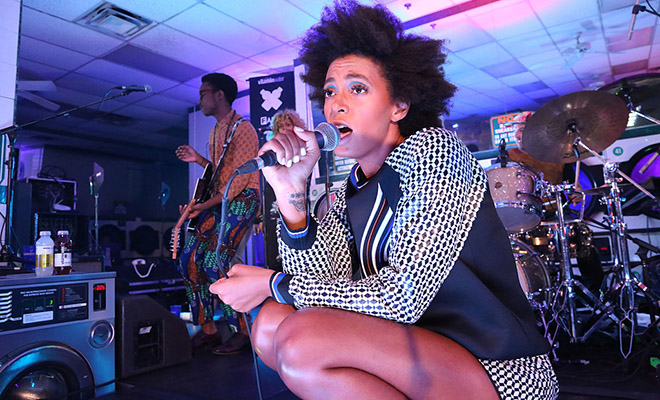 Although I enjoyed a good portion of Sol-Angel and the Hadley Street Dreams, I didn't really see it for Solange's 2012 EP, True. I got the inspiration behind it, but it came across as Melatonin music to me all the same. I do realize I'm in the minority, though, and many of Solange's fans are pressed like Kenya Moore in front of a camera crew over what's next.
So I bring you details of her forthcoming full length album by way of Billboard.com. As most of you heard, Solange got a label deal with Sony. Yes, nepotism is the best thing ever. If only the rest of us were as lucky. Anyway, it sounds like it's going to be more of the same. If you're into that, congratulations. For the rest of us, I'm turning "T.O.N.Y." back on in memoriam.
You just shared some new details about your next album, which will be released through your own label, Saint Records, distributed through Sony. We had originally heard you might be releasing music through Columbia – what's the story?

I mean, it's distributing through Sony, bottom line, and I was just incredibly excited to have a space and a house for all my new projects. And I have so many ideas for other projects. And I think it's just really incredible to be a young woman and I feel so blessed and lucky and honored to be able to be in a position to do that. It's been a passion of mine to do that forever, I grew up seeing how the music business works from very different sides and I've conjured up a lot of knowledge to apply.

Is the idea with Saint that you'll be signing other artists as well?

For sure. I'm actually working on the first project, which will involve me in some kind of way but it will absolutely involve other artists as well. I have so many friends who've put me on to so much great music. And we just have that endless conversation about new upcoming great artists that might not get the exposure they deserve on an independent level. There's so much magic happening right now on an independent level and I'm excited to be attached to that.

You took a long hiatus between albums before releasing "True." Do you have a timeframe yet for this next album?

I'm actually trying to give myself a deadline this time around. One of the pros of being independent is having that space and that time. But it's also a major con when you don't set aside a deadline and keep going and keep going. When you have a goal in mind you definitely stay motivated. I'm trying to stay motivated because I know it took four years before my last record came out. [laughs] That is not happening — it's gonna come out next year.

Is there a person or a team at Sony that you're reporting to as part of your new label?

No. Absolutely not. The infrastructure of this record in terms of the creative process is absolutely the same as the last one. I'm making the music that I want to make. I'm in my own space and it's just incredible to be able to continue to do that.
And just in case you missed it, here's homegirl's recent performance at a Brooklyn laundromat:
Be the first to receive breaking news alerts and more stories like this by subscribing to our mailing list.