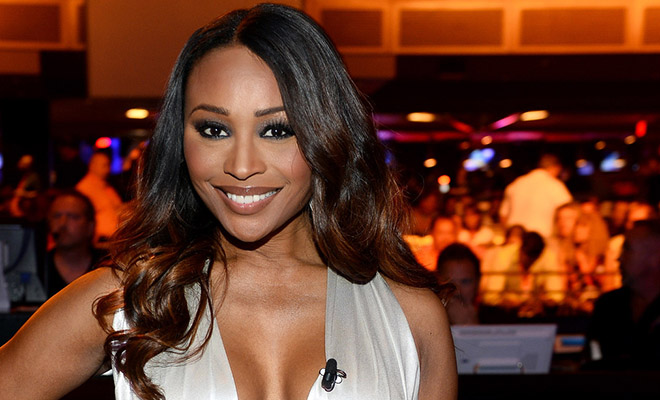 I'm going to be very careful not to speculate on Cynthia Bailey's health. I'm not a doctor and I'm not trying to burn in hell. That said, the tabloids are saying that despite suggestions to the contrary, Cynthia Bailey is NOT pregnant. However, she is dealing with a bit of a health crisis.
If true, I wish her all the best with treatment and recovery, but like I said, I'm not going to the seventh circle of hell for speculating on a serious health issue. I'll leave that to the people out here running their yaps.
I'm sure I'll get a slap on the wrist for spreading said yapping, or maybe a smack on the side of the head. Whatever, just don't punish me as harshly, universe, if all of this turns out to be as real as Kim Zolciak's hair.
The National Enquirer claims:
Rumors started swirling last month that gorgeous model Cynthia Bailey, 46 – who married restaurateur Peter Thomas in 2010 – might be pregnant, because she appeared to be sporting a paunch at BFF NeNe Leakes' wedding. The whispers prompted Cynthia to reveal publicly that she had an undisclosed medical condition," said an insider.

The ENQUIRER has learned Cynthia has uterine fibroid tumors that have grown so large they need to be surgically removed ASAP.

According to WEBMD, fibroid tumors are composed of renegade muscle cells that band together to form a fibrous mass within the uterus. Like Cynthia's, they are rarely malignant, but commonly occur between the ages of 30-40, with African-American women at greatest risk.

"Cynthia agreed to share her health crisis on the show because she wants other women see what she goes through and be reminded that they need to get regular checkups," a family friend revealed.

"She didn't go to the doctor because she was working too much. But when her stomach started to grow, and she knew she wasn't pregnant, she went to the doctor in a panic, wondering if she had cancer."

Although the diagnosis came as a relief, Cynthia, who has a 12-year-old daughter from a previous relationship, is still concerned about surgery.

"She's allowing Bravo cameras to be there," added the friend. "And Peter will be right by her side."
Meanwhile, Cynthia all but confirmed her mysterious illness in an exclusive interview with Radar Online, and while she didn't go into any details about the condition, she did reveal that she hasn't undergone the knife just yet, and everything will play out next season on RHOA.
"I can say a whole lot about it…" she told the website. "But I am dealing with a medical situation. I will be having a surgery and rectifying the [situation]. That will play out on the show."
Be the first to receive breaking news alerts and more stories like this by subscribing to our mailing list.