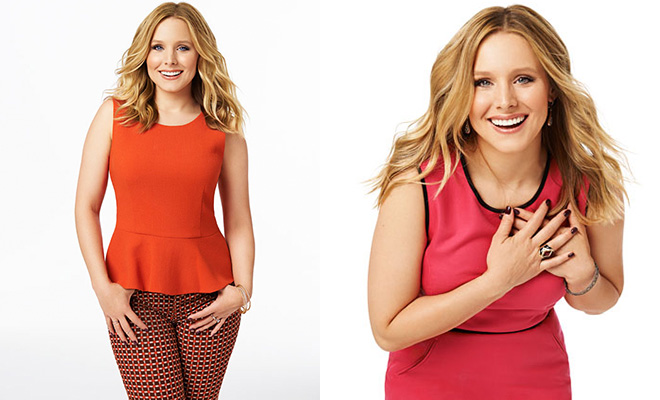 There's no denying the fact that we're surrounded by images of "post-baby bods" and stories that illustrate how famous women swiftly return to being thin after giving birth.
By contrast, those that don't drop the weight immediately are scrutinized. Remember how many headlines detailed Jessica Simpson's post-pregnancy weight gain last year or the cruel videos made about Aishwarya Rai after she dared to appear in public with a fuller figure a year after giving birth.
So it wouldn't be surprising if a new mom in the public eye felt tremendous pressure to drop her weight immediately. Refreshingly, at least one woman is speaking out about the subject.
Kristen Bell, who welcomed her daughter Lincoln with fiance Dax Shepard* in March, tells Redbook that she refuses to give in to the unrealistic standards put on new mothers.
"I refused to worry about something I could not change, and I still refuse," Bell said. "Look, I'm like any other woman. All this evolved b.s. that I'm telling you is my mantra: It's not something I practice naturally. I had to surrender to not worrying about the way I looked, how much I weighed, because that's just part of the journey of having a baby. I am not a woman whose self-worth comes from her dress size."
Unfortunately, Bell is a rarity. Just head on over to Holly Madison's Celebuzz blog for proof. Last week, the former Playmate posted bikini shots of herself and boasted that they were taken "a few months after giving birth."
*Kristen Bell and Dax Shepard began dating in 2007 and announced their engagement in 2010, yet the pair was adamant about waiting to wed until marriage was accessible to all.
"The reason we're not rushing to get married is because I don't feel appropriate taking advantage of a right that's denied to my [gay and lesbian] friends," she told Larry King in 2012.
When the Defense of Marriage Act (DOMA) was overturned last month, Bell re-proposed to Shepard via Twitter:
.@daxshepard1 will you marry me? Xo #marriageequality #loveislove"

— Kristen Bell (@IMKristenBell) June 26, 2013
Shepard responded:
@IMKristenBell Fuck Yes!!!!!!!!!!!

— dax shepard (@daxshepard1) June 26, 2013
DOMA is dead. Prop 8 is dead. Now let's bring my big, gay marriage to @IMKristenBell to Life!!!!

— dax shepard (@daxshepard1) June 26, 2013
Be the first to receive breaking news alerts and more stories like this by subscribing to our mailing list.