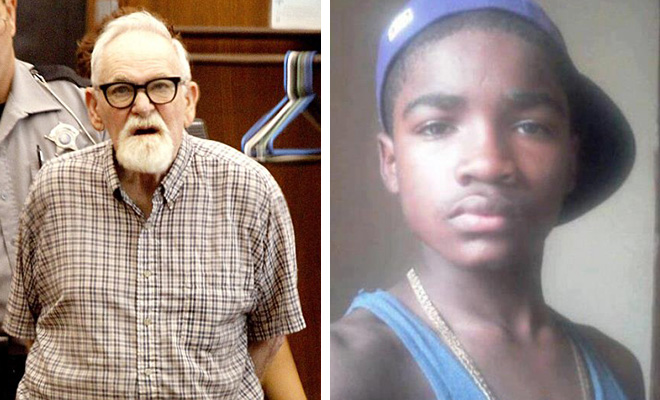 The Milwaukee man who was found guilty of shooting and killing his unarmed teen neighbor will be spending the rest of his life behind bars for the murder, with absolutely NO chance of parole.
Just three months after Trayvon Martin was killed by George Zimmerman, 76-year-old John Henry Spooner approached 13-year-old Darius Simmons, who lived next door to him and wrongfully accused the teenager of breaking into his home and stealing his guns.
After the boy denied stealing anything, Spooner pulled out a gun and shot Simmons right in the chest in front of his mother. The shocking incident was captured on Spooner's own surveillance cameras and the video was shown in court as evidence. Police said they searched Darius' home after the shooting and found no weapons.
After he was convicted, Spooner's defense lawyers claimed that he was mentally ill at the time of the shooting, but when the prosecution showed the jury the video of the shooting, they pointed out that it was deliberate, and Spooner knew exactly what he was doing.
After a short trial, Spooner was convicted of first-degree intentional homicide, and a judge sentenced the elderly man to life in prison without the possibility of parole.
A report from the Associated Press states that the judge could have allowed for the possibility of parole after 20 years, but he didn't, citing Spooner's lack of remorse and desire to also kill the teen's brother … not to mention in 20 years, Spooner will be 96 years old — that is, if he even makes it that far:
Spooner, who has lung cancer and other physical ailments, will spend the rest of his life in prison.

While in court for his sentencing, Spooner spoke in a frail voice that was sometimes difficult to hear and reiterated that he felt he had little choice but to take the law into his own hands.

"They had to rob the house," he said. "Why'd they do that to me? … They pushed me over the edge, I guess. I don't know. As far as being sorry, I don't know if I did right or wrong."

Judge Jeffrey Wagner replied sternly: "I can tell you, you did wrong. You took the life of a child."

The defense had argued that the killing might have been reckless but not intentional, and said Spooner didn't mean for the shot to be fatal.

The surveillance footage showed Spooner confronting Darius on a sidewalk, pointing a gun at the boy's chest and firing from a few feet away. Darius turned and fled, and then collapsed and died in the street moments later as his mother cradled him in her arms.

Spooner fired a second shot that missed. He tried to fire a third one but his gun jammed.

Spooner testified at trial against his attorney's advice and said he killed the teen because he really wanted his guns back. He also acknowledged wanting to kill Darius' older brother when he ran to his sibling's aid as he lay dying in the street. But Spooner said he didn't shoot the brother because he didn't want to hit any of the others who had gathered around.

When prosecutor Mark Williams suggested Spooner killed Darius as revenge for having his guns stolen, Spooner replied, "I wouldn't call it revenge. I would call it justice."

Larry recalled those words from Spooner as she asked the judge to prevent him from ever being eligible for parole.

"I want him to be accountable for what he did to my son, Darius Simmons. I want him to have life in prison," she said at Monday's sentencing. "He showed no remorse and said justice was served. He is a menace to society."
Be the first to receive breaking news alerts and more stories like this by subscribing to our mailing list.