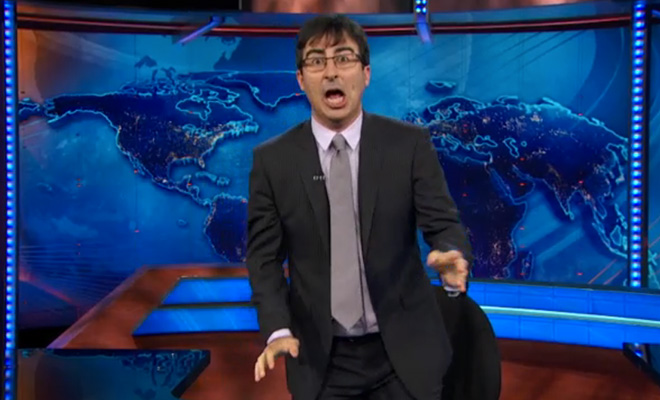 As the world continues to flip out over the arrival of Kate Middleton and Prince William's royal baby, "The Daily Show's" John Oliver couldn't help but point out the ridiculousness of the media coverage surrounding it.
Those that tuned into the show last week will remember that Oliver jokingly declared that he would not leave the newsroom until the baby was born and hilariously donned a diaper.
On Monday, our favorite British replacement host mock hyperventilated over news that Kate had delivered a boy. This was followed by part two of a segment called "On Her Majesty's Secret Cervix," which features a baby dressed as a king popping up from between the Duchesses legs. Not surprisingly, it highlighted a jaw-dropping comment made by CNN Royal Correspondent Victoria Arbiter.
"This is how brilliant a royal Kate is," she said. "There are women throughout British Royal Family history that have panicked over not being able to deliver a boy, and here we are, Kate did it first time."
"Right on!" said the 16th century. As we all know, there have never been any great Queens, so having a baby girl is an abomination.
Has this chick ever seen "The Tudors" or been on the right side of rational thought?
Since "The Daily Show" is set to run full coverage of the baby's birth on Tuesday, they'll probably mention another "Are you f**king kidding me?" moment brought to you by CNN.
The network went into FULL details on all the ways in which Kate could deliver her baby. Oh yeah, and they interviewed a woman in freaking labor!
See for yourself:
Be the first to receive breaking news alerts and more stories like this by subscribing to our mailing list.