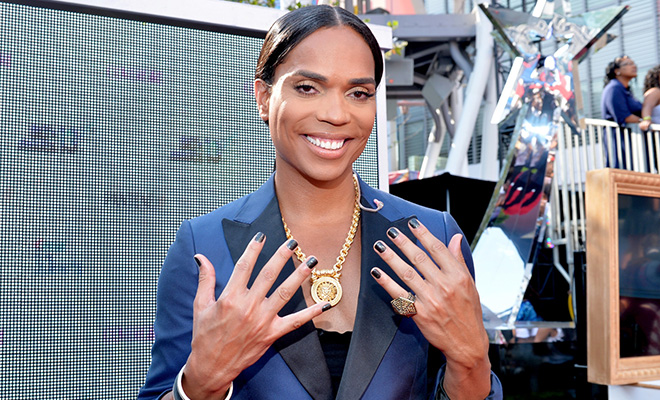 After BET made B. Scott feel uncomfortable at this year's BET Awards, the network has apologized, but B. Scott says he is not accepting it.
If you hadn't heard already, the popular Internet personality and fashion blogger was forced by the network to tone down his usual androgynous look to appear more "masculine" while doing a live red carpet segment for the 2013 BET Awards.
B. Scott wrote in a post on his blog LoveBScott.com this week that BET asked him to be a fashion correspondent for the Style Stage during the "106 & Park" pre-show for the BET Awards. But in the middle of his segment, organizers who deemed his look "unacceptable" pulled him aside and asked him to pull his hair back, remove his makeup and take off his heels.
BET offered what they believed to be an apology the next day:
"BET Networks embraces global diversity in all its forms and seeks to maintain an inclusive workforce and a culture that values all perspectives and backgrounds. The incident with B. Scott was a singular one with a series of unfortunate miscommunications from both parties. We regret any unintentional offense to B. Scott and anyone within the LGBT community and we seek to continue embracing all gender expressions."
But B. Scott isn't having it. He doesn't want it, and you can take it right back, BET.
"I want a real apology from BET. This was a not a mutual misunderstanding or miscommunication. I pride myself on being very professional," he said in an interview Tuesday.
In his blog post, B. Scott noted that he's previously appeared on BET's "106 & Park" twice, and on both occasions, he was allowed to be his full self, and there was never any issues with his appearance then.
So, the question remains. Why now? What was the problem this time?
B. Scott wrote on his site:
I feel as though at the last minute that someone at BET wasn't comfortable with someone like me.

It's not just about the fact that BET forced me to pull my hair back, asked me to take off my makeup, made me changed my clothes and prevented me from wearing a heel. It's more so that from the mentality and environment created by BET made me feel less than and that something was wrong with who I am as a person.
Though B. Scott has rejected BET's apology, he says he still has supporters at the network and will work with them in the future "if I knew for sure that they wanted me to be there and I could express myself how I normally express myself and my brand."
Be the first to receive breaking news alerts and more stories like this by subscribing to our mailing list.