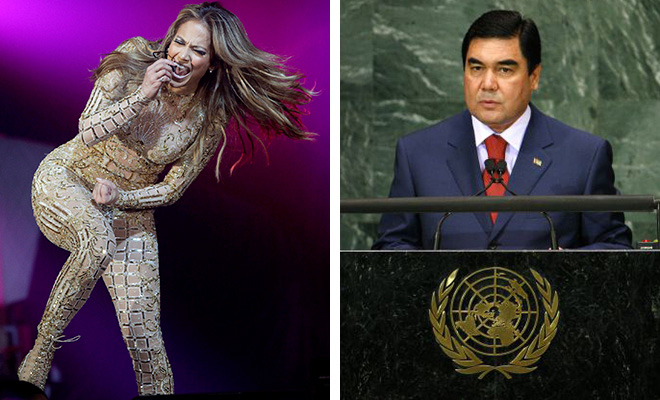 Unless you've just awakened from a coma, you know that Jennifer Lopez is in hot water right now for performing for Turkmenistan leader Gurbanguly Berdimuhamedow, who is well-known for his oppressive, human rights violating practices.
Not only did Lopez perform for the leader, but she also sang "Happy Birthday" to Berdimuhamedow during the event, which was hosted by the China National Petroleum Corp.
Of course, her publicist claims (via PEOPLE) that Jenny from the Block wasn't aware of the controversy surrounding Berdimuhamedow:
"Had there been knowledge of human rights issues any kind, Jennifer would not have attended."
And that Marylyn Monroe style birthday serenade? It was reportedly a last minute request that Lopez simply went along with.
What is it with celebrities and crazed political figures?
Remember that time in 2010 when Beyonce performed for Muammar al-Gaddafi's son, Hannibal? The Libyan dictator — who was killed by National Transitional Council fighters — had a horrendous record of violence against women, while his son was accused of beating his wife just a week before the concert. Hannibal's long history of domestic violence and accusations that he assaulted his staff didn't deter the Grammy winner when she wore a sexy black number and put on a show for him.
Prior to that, Mariah Carey also performed for the Gaddafis, and in 2011, 50 Cent did the same. Other artists who have performed for the family include Usher and Nelly Furtado. They are believed to have earned roughly $1 million for their performances, but following outrage and a media firestorm, Beyonce, Usher, and Furtado publicly donated the money they earned to charity.
You would think that after Furdao's public remorse over her performance, which took place in 2007, other artists would stay away from that kind of controversy.
Carey did not donate the money she received but she did issue a lengthy apology.
"I was naive and unaware of who I was booked to perform for," she said in a statement on her website. "I feel horrible and embarrassed to have participated in this mess. Going forward, this is a lesson for all artists to learn from. We need to be more aware and take more responsibility regardless of who books our shows. Ultimately we as artists are to be held accountable."
Too bad so many of her fellow artists failed to read her statement.
Be the first to receive breaking news alerts and more stories like this by subscribing to our mailing list.