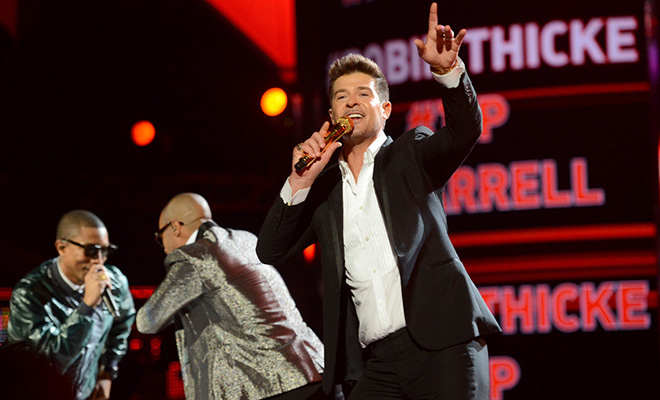 In the race for "White Boy of the Year," Robin Thicke is doing quite well for himself with his hit single "Blurred Lines."
Robin Thicke has never been bigger than he is at this moment and he knows it. So he staged a monster of a performance for the 2013 BET Awards and he invited Pharrell, T.I. and a bevvy of beauties to tag along for the show.
With a whip-sharp falsetto, Robin played to his strengths and avoided any awkward dance moves. Robin might believe his music is more "black" than Justin, but he moves like the awkward white boy that he is.
But the groove to "Blurred Lines" is undeniable and Robin owns it. Although it was kind of awkward when Pharrell proclaimed that he loved black music while standing next to Robin Thicke. Isn't that a bit like saying you love big women while standing next to Zoe Saldana?
WATCH ROBIN THICKE'S BET AWARDS PERFORMANCE BELOW:
Be the first to receive breaking news alerts and more stories like this by subscribing to our mailing list.