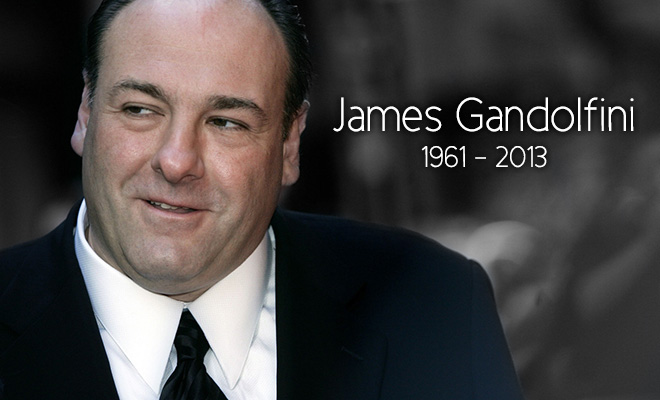 More than 1,500 people came out to mourn the loss of actor James Gandolfini in New York on Thursday (Jun 27).
The service, which was held at The Cathedral Church of Saint John the Divine, was attended by the family, friends and collaborators of "The Sopranos" star. Fans of the Emmy-winning actor also lined up around the block to pay their respects.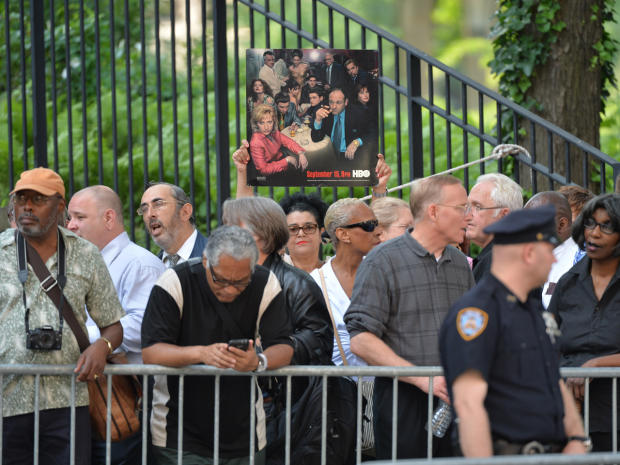 Interestingly, fans of the star were made up of various different ages and cultural backgrounds. Some referred to Gandolfini as an "icon" and said they were compelled to come out because "he was Tony Soprano."
"I came out to show my support to a great actor," said writer Bianca Hammonds. "I'm from New jersey and I loved what he represented. He made a great impact for the state. As you can see from the turnout, I'm not the only person that felt connected to him."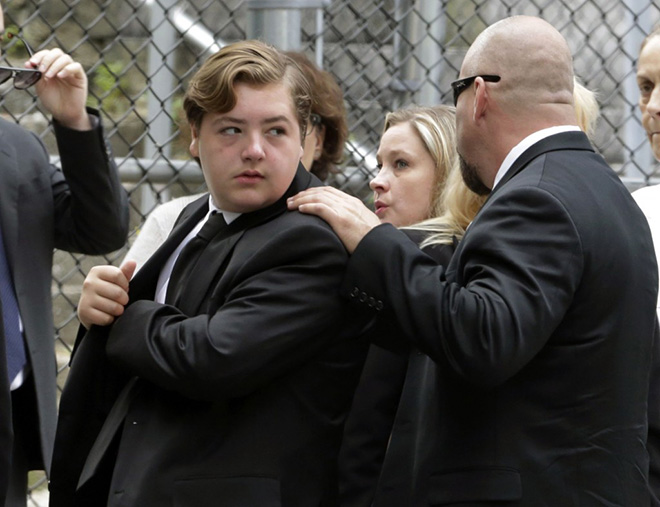 Family members in attendance included the 51-year-old's wife Deborah Lin Gandolfini and his son, Michael Gandolfini (pictured above), who served as one of the pallbearers.
In a tearful message to her late husband, Lin thanked him for "supporting" her before adding, "I will miss you terribly."
Not surprisingly, a great many "Sopranos" cast members were on hand, including Steve Buscemi, Edie Falco, Michael Imperioli and Joe Pantoliano. New Jersey governor Chris Christie also made an appearance, as Gandolfini was a native of the state and "The Sopranos" is famously set there.
Some of the passages read during the service were pulled from "The Wisdom of Solomon" and "Psalm 23."
Susan Anton, who worked as Gandolfini's dialogue coach and collaborator for over 20 years, spoke about how the star turned down a film that was to shoot this summer in order to spend time with his family.
She also shared humorous moments from their theater days, particularly when a production that they were co-starring in was set to open. According to Anton, the then unknown actor reassured her, "What's the worst that can happen? We suck."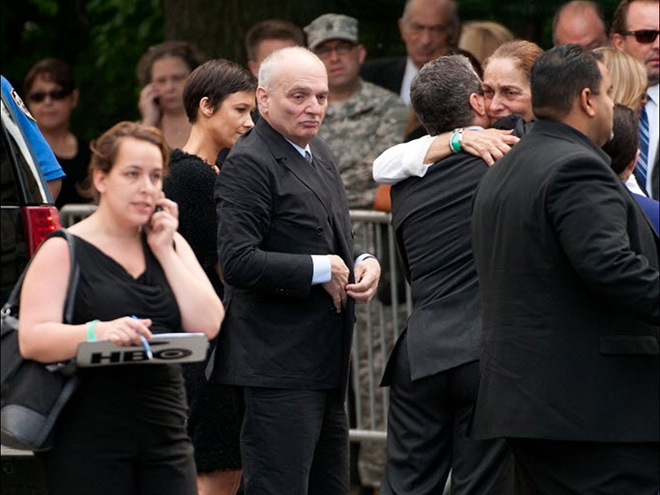 "Sopranos" creator David Chase addressed the late star in a letter that was both humorous and heartfelt. Chase recalled how the actor often became consumed by the role of mob boss Tony Soprano, at one point going off script and destroying a refrigerator in a scene.
Chase choked up when he recalled Gandolfini once draped a wet handkerchief over his forehead while filming in the hot sun. He noted that his Italian American ancestors would cool down the same way while laboring with cement and this realization led Chase to consider the star "his brother."
Gandolfini, who was known to some as "Jim" or "Jaime," died of a heart attack last Thursday while in Italy attending the Taormina Film Festival.
Though the actor earned considerable praise for his TV role, his film work was under appreciated, like for instance, his role as a grieving father in "Welcome to the Rileys," or his portrayal of a doomed parental figure for two teenage hit women in "Violet & Daisy." His work in both projects and several others has gone largely unrecognized.
Last year, he was phenomenal as an alcoholic contract killer in "Killing them Softly" and gave a heartbreaking performance as a stern but loving father in "Not Fade Away," which reunited him with David Chase.
At the time of his death, James Gandolfini had wrapped filming the crime drama "Animal Rescue."
Take a look at some pictures from his funeral here:
Be the first to receive breaking news alerts and more stories like this by subscribing to our mailing list.