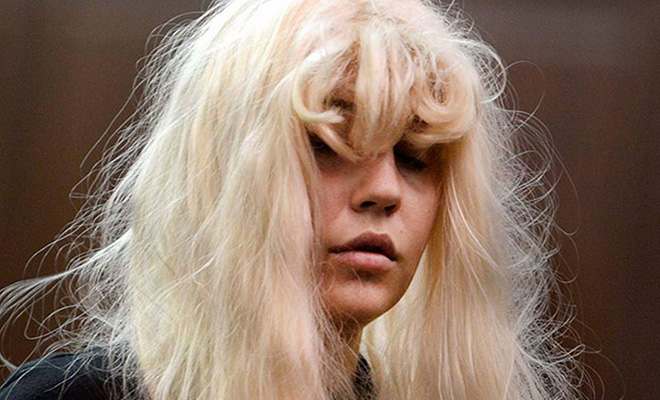 Calling Amanda Bynes "crazy" has gotten pretty old by now,  so now we'll just call her "weird." Besides, according to her, she is not crazy, but in fact, a hero.
And why does she consider herself to be a hero? Well … we'll just let her tell it.
This is what she posted on Twitter the other day (via FishWrapper) clearing up some rumors, mainly the one about her being crazy:
I never spoke to anyone at Chinga Changa Records. I got an offer for a bigger record deal that I'm taking as soon I get my surgeries!
I was born with a webbing in between my eyes. That was a birth defect that I had surgically removed! I've never been more excited! Now I need a few more surgeries to shave the bridge down to correct the rest of my nose so I can start the next chapter of my career! Music!
I consider myself to be a hero to have suffered 27 years with a birth defect and to just now have it surgically removed! I had to share my story with you so the media would stop using old photos of me and stop writing lies about me having odd behavior when I was just embarrassed to share the fact that I had a birth defect. As soon as I had it removed I couldn't wait to talk about it!
I'm having my next surgery on Saturday! My doctors are heroes who also correct kids who have cleft lip – something as traumatic as webbing in between your eyes!
I wanted to share my story with you to prove that I'm not crazy, I was just embarrassed. Surgery is a complete miracle for me – nothing can hold you back from living out your dreams. There's a surgery for everything that's wrong with you!
So there you go. The real reason Amanda Bynes has been acting all weird lately is because she was born with webbing in between her eyes, and she's a hero for having to suffer nearly 3 decades with a birth defect like that.
Also, WTF is "webbing in between the eyes?" and why is this girl mutilating her face with all of these off-the-wall plastic surgeries?
Be the first to receive breaking news alerts and more stories like this by subscribing to our mailing list.