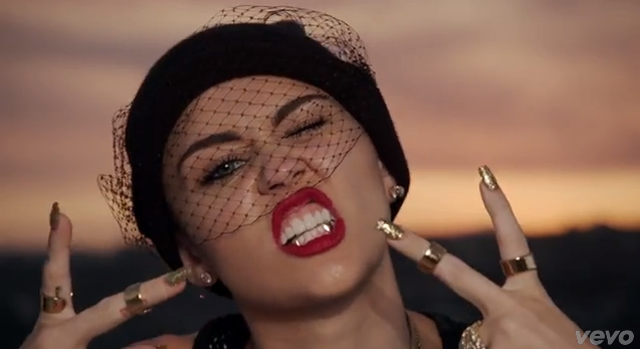 Hannah Montana who? Miley Cyrus has given herself a complete makeover and now, she's sporting grills in her mouth and throwing up gang signs. Mickey is not pleased.
If Miley Cyrus has a Bible, it's probably written by Rihanna. You can tell that she's studied the Barbados-born singer closely as she's soaked in every snarl, pout and hoodrat move that RiRi's pulled off in recent years.
While some will be quick to criticize the former Disney star for trying so hard (she's really bordering on doing the most), you can't blame her for taking the reins of her career. This moment in a teen star's career is critical. You can either end up with a career like Justin Timberlake's or like Nick Carter's.
Miley is clearly aiming for "SexyBack" territory.
The plot of the video for "We Can't Stop" revolves around two things: a house party in the L.A. and weird shit. The house party bit was to be expected, since this song is essentially a mature version of Cyrus's "Party in the U.S.A.," but the oddball symbolism was unexpected.
In one scene, Miley pretends to cut off her fingers while pink goo oozes out of her hands. And then she poses and makes out with a doll that looks like her in the pool.
Miley Cyrus is one strange piece of fruit, y'all.
WATCH THE VIDEO FOR MILEY'S NEW SINGLE BELOW:
Be the first to receive breaking news alerts and more stories like this by subscribing to our mailing list.