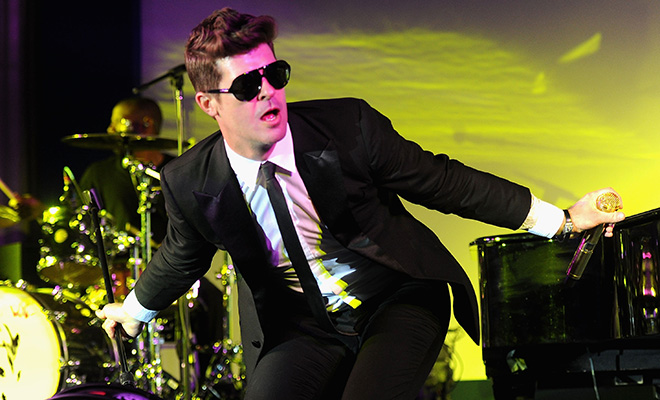 Robin Thicke is currently enjoying the biggest hit of his career with "Blurred Lines," which currently sits atop the Billboard Hot 100 at No. 1.
As much as I love the song, a small but very vocal group of Thicke fans have complained that the song is a detour from the "oooh, baby, baby, I adore you" form of R&B and blue-eyed soul they had become accustomed to. However, in a new interview, Alan Thicke's son acknowledges the shift in sound: He's not trying to flop again.
"I've always written and produced my own music. My last album didn't sell very well — in fact, not at all. I thought to myself, 'Maybe I'm just being selfish and I want all the credit and I want everybody to love me and know how great I am and all this BS.' And then I realized, this time, I'm not going to do it all on my own. I'm going to hire some of the great hitmakers in the business and try to make some music everybody can enjoy instead of just my small fanbase."
In other words, he'll be damned if Justin Timberlake gets all of the money, especially on some songs that sound like his rejects. Damn right, Robin. You are the nephew of Teena Marie and you deserve at least consistent Trey Songz-like album sales.
In any event, Robin is ready to drop single number two in a hot second and hopefully duplicate the success of "Blurred Lines."
On "Give It 2 U":
"It's very exciting. It's very Michael Jackson, Prince but also pretty hip-hop. It's a big, shiny pop record. It's fun."
As for learning to let a loose a little:
"I've written so many songs about my insecurities, my fears, my failures, my relationship problems, my personal issues, my issues with God and the universe," he explained. "I've written about everything. I think that's why this album I was like, 'I don't want to write about myself anymore. I just want to write stuff that makes people feel good.' This is the most fun, feel-good music I've ever made."
Be the first to receive breaking news alerts and more stories like this by subscribing to our mailing list.