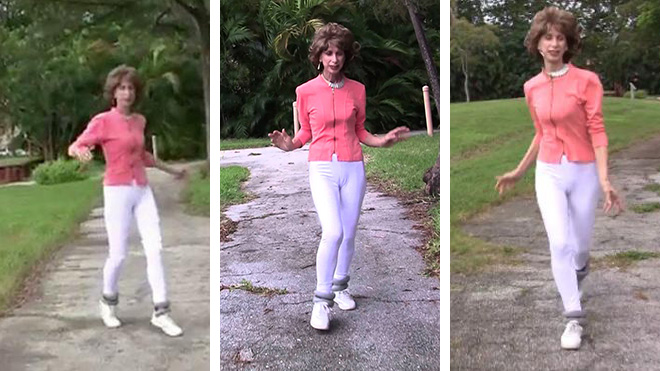 Keeping a regular exercise routine is a struggle experienced by many, but that's because we've all been doing it wrong THE WHOLE ENTIRE TIME. Ladies and gentlemen, we present to you, PRANCERCISE!
Inspired by horses, and invented by a woman named Joanna Rohrback, prancercise is a type of exercise described as a "springy, rhythmic way of moving forward, similar to a horse's gait."
Rohrback actually invented the unique exercise routine in 1989, but didn't catch on until recently when a video was uploaded to YouTube last December that has amassed over 6 million views to date.
Ms. Rohrback explained in an interview with The Daily Beast how she invented the art of prancercising, which she believes could have been the original Zumba had she been able to find the right investors:
"I must have heard a really good song I liked on the radio," Rohrback said. "I started moving in a rhythmic way, using ankle weights. And it just evolved."

It felt like prancing, she said, like the way a happy horse frolics through a field of poppies. She was using her upper body and her legs, and because the whole thing was so fluid and natural, there was no pounding impact on the pavement. Prancercise was born, and it was beautiful.

Rohrback started prancercising outside, every day, on the "boardwalk" in Hollywood. People asked her about it constantly. "I think I even got it on a news clip," she said. She quickly realized she shouldn't keep prancercising to herself.

She made a video, but there was no YouTube to host it. So to be sure no one could ever steal the idea, she created a permanent record of her creation: "Funky Punky's Prancercise Program."

She filed it in the Library of Congress.

"Things were different back then," she told The Daily Beast. "Prancercising was developed before Zumba came out. If I had had the investors and everything back then, prancercising would have been a huge hit."
Be the first to receive breaking news alerts and more stories like this by subscribing to our mailing list.