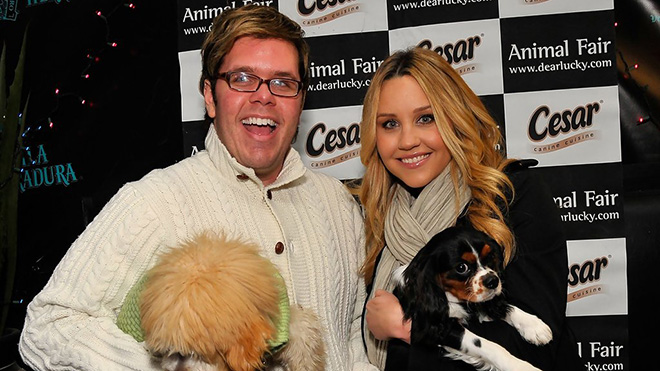 The mayor of nutcaseville is at it again! If you thought that self-proclaimed "beauty queen" Amanda Bynes toned the crazy down after her arrest, you'd be wrong.
The former Nickelodeon star has seemingly been holed up in her NYC apartment, smoking weed and going on Twitter. After all, she doesn't actually have a job right now, that is, unless you call being a full-time train-wreck a job.
Bynes now spends her days threatening to sue virtually everyone on the planet, posting traumatizing photos of herself, and getting into feuds with puzzling targets.
Her latest twitter "rival" is none other than gossip blogger Perez Hilton.
On Thursday Bynes tweeted some not so friendly instructions at him.
@perezhilton no one wants to suck your dick! Stop living! Kill yourself! I look sooooo much better than the girl you hired to look like an awful cheeky version of me! So I'd say Fuck You but no one wants to! I just say keep living in your shitty existence leaching off of stars who you look, sound, and act nothing like!
The tweet came a day after she tweeted then deleted, "(He) is ugly! He's not my friend! His face is scary & ugly! Please stop acting like u know me!"
I'm going to have to disagree here though. Not only did Perez pave the way for those looking to carve out an online empire, he's also a well-educated (what up NYU!) and savvy businessman who worked his way to the top.
So why was Perez her latest target? Probably because he's been following her actions extensively on his site — like every other celeb news writer out there, and he also tweeted this:
I'm part of the ugly club! twitter.com/PerezHilton/st…

— Perez Hilton (@PerezHilton) May 29, 2013
Bynes also had choice words for Sports Illustrated model Chrissy Teigen.
Bynes was not happy with the sultry brunette after she tweeted, "The fact that Amanda Bynes has any 'support' to retweet is really unsettling. Support people with mental illness, yes. But don't condone/enable scary and poor behavior."
The 27-year-old shot back this laughable gem. (Sidebar: Who thought permitting longer Twitter posts was a good idea?)
"Ur not a pretty model compared to me," Bynes wrote in an extended tweet. "I signed to Ford models @ age 13. I don't look up to u beauty wise. I'm far prettier than u! I'm offended that you're saying I have a mental illness when I show no sign of it, but thankfully not one man that wants me wants you and you are an old ugly model compared to me!
"You look 45!" Bynes added. "You're not pretty so I'm not intimidated by you! I think you're jealous that you're just an ugly model whos career is uninspiring! I don't respect you! You're no beauty queen! I'm a beauty queen!"
Just to clarify, Teigen is 27, just like Bynes.
Right now, Amanda Bynes probably has no idea how much of a joke she actually is. Pretty soon, she'll spiral completely out of control and be forced to go to prison, rehab, or prison rehab (Lindsay Lohan style).
Be the first to receive breaking news alerts and more stories like this by subscribing to our mailing list.