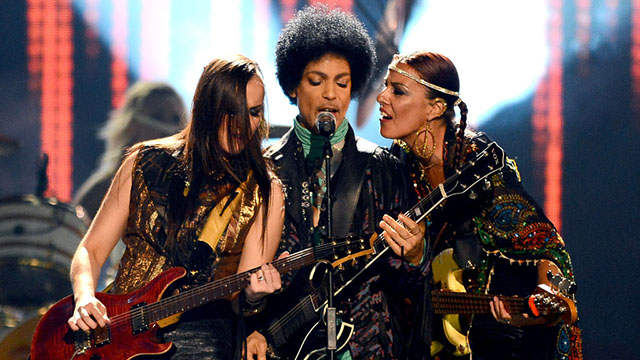 Legendary singer, songwriter, producer, musician, and cat daddy, Prince, closed out the 2013 Billboard Music Awards performances.
While perusing the Twitter, I noticed some 15-year-old Nicki Minaj stan asked what was the "big deal" about Prince? The stan then proceeded to shade Prince fans for being "old." If only I could've virtually cut a switch. Now I love me some Nicki Minaj, but someone pray for that child and all those similar.
For those of you who want to know what the "big deal" about Prince is, start with the reality that he essentially created a whole genre of music unto himself. Then factor in that he's a celebrated songwriter and musician. Wait, wait…fixate on that last part for another second: musician. Meaning, he can actually play a damn instrument.
So many people call themselves "producers" but they can't play an instrument, which means they're not really that much of a producer so much as they are a beat maker. Yes, I'm sounding very "get off my lawn" right now, but evidently it's needed.
Okay, with that said, just take in for a minute how this little bitty man could rock a stage with nothing more than a guitar and a harem of racially ambiguous women playing behind him.
I've seen Prince in concert twice, so while this isn't even my favorite performance, this remixed version of his classic "Let's Go Crazy" bests just about everything else I watched on that wack award show last night. Seriously, the 2013 Billboard Awards was like watching the seven levels of EDM hell. I blame your cousins for that, but that's the subject for another post.
Thank goodness the show closed out with someone who has never ran to David Guetta on some "please, baby , please" give me a dance song so I can pay my rent. So go on and press play, take it in, and appreciate the man's artistry. Then go listen to "Lady Cab Driver." You're welcome.
Be the first to receive breaking news alerts and more stories like this by subscribing to our mailing list.