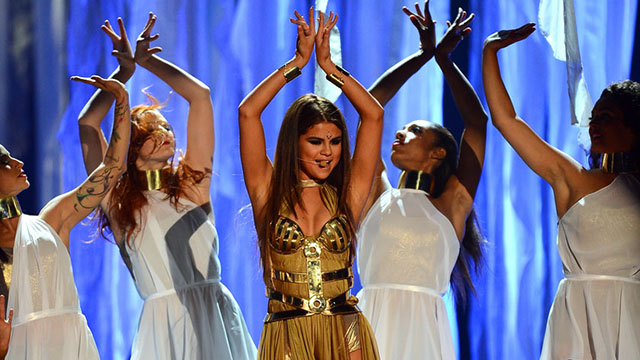 Maybe you have to be born after 1995 to get into this, but I don't see it for Selena Gomez's performance of "Come Get It" at this year's Billboard Awards. Don't get me wrong. Selena seems like a lovely girl. I even like her Rihanna-reject single. What I don't get, though, is why she's dancing as if she just learned how to walk five minutes before someone tried to teach her this choreography.
I mean, I understand that this kind of dancing is hard. Many of us could dance Diamond from The Players Club, but can't give you old school Britney Spears even if we were working with Jesus' feet. Speaking of, I miss vintage Britney. The one who used to move her legs. After this performance, I miss that Britney now more than ever. Clearly, it may take a while before some other rhythm-enhanced white girl fills the void of the legendary Ms. Britney Spears.
I know Selena is trying. In fact, you ought to know Selena is trying too, considering it's pretty obvious that she is counting her steps throughout the entire performance. Still, try harder, girl. As I said, I enjoy the song and I think she's the cutest lil' thing. However, if you're going to keep recording songs along the lines of "Come & Get It" and plan to perform them in public, you've got to learn how to properly pop that thing.
Better luck next time, Ms. Gomez.
Be the first to receive breaking news alerts and more stories like this by subscribing to our mailing list.