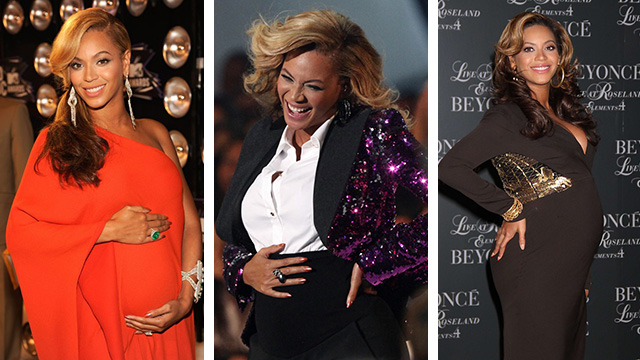 Citing "multiple sources," E! News is reporting that Beyoncé is 100% PREGNANT with her and Jay-Z's second child!
Superstar supermom Beyoncé is expecting her second child with hubby Jay-Z, multiple sources exclusively confirm to E! News.

The news follows rampant speculation that the "Countdown" songbird was pregnant, even as the couple remained tight-lipped about their ever-growing family.
Rumors of a possible second Beyoncé pregnancy first cropped up a few weeks ago when the singer was spotted on the red carpet of the Met Gala wearing a custom Givenchy gown that was designed to camouflage her stomach/waist area. And earlier this week, the NY Post further added to that speculation.
Then there was that whole concert cancellation thing because of "exhaustion" and "dehydration" … but honestly, who believed that? We all know "exhaustion" and "dehydration" are just cover-ups publicists use to hold off on confirming pregnancies or other health conditions celebrities aren't interested in revealing to the world.
So far, neither Beyoncé nor Jay-Z's reps have confirmed E!'s report (we hear Beyoncé is going to confirm the big news herself next month at the BET Awards like how she did the first go-round at the MTV Awards, though that might be too late) … but we do know that Beyoncé has been thinking about having more children because, in her words, Blue Ivy "needs some company."
If this news turns out to be true — and at this point, it probably is — Blue Ivy is finally gonna get that "company" she needs.
But wait … what does that mean for the rest of the "Mrs. Carter Show" tour? Will the U.S. leg be postponed?
Beyoncé, I'm happy for you and everything, but we seriously need — no, scratch that, DESERVE — answers. How you gon' launch a world tour, tease us with all this new music, and then sneak off and make a baby at the same damn time? Where are your priorities?!?
Be the first to receive breaking news alerts and more stories like this by subscribing to our mailing list.