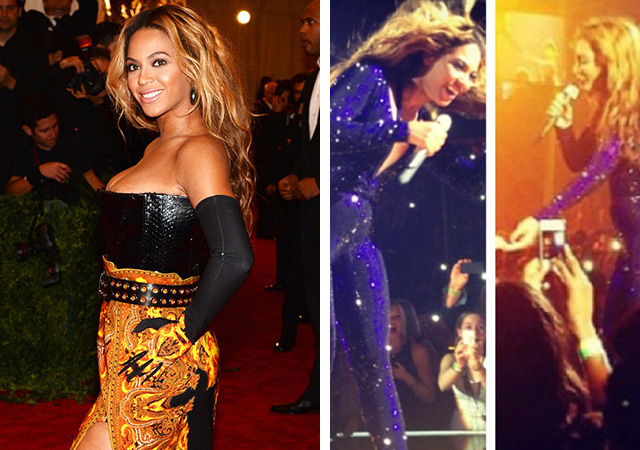 Rumors about whether or not Beyonce's womb currently has a new occupant have officially reached the gossip rags. According to Page Six, "multiple sources" tell them that the Creole Crooner is knocked up. I imagine at least half of these sources came from the Twitter, where rumors of a second Beyonce pregnancy first came up.
Yeah, I saw the picture of her with the pooch in the blue jumpsuit onstage and the midsection-camouflaging Givenchy gown she wore to the Met Gala. I attributed all of that to bloating or one too many recent servings of red beans and rice. Perhaps that's just wishful thinking.
After all, I didn't spend all that time on my computer and phone going through multiple pre-sales trying to score $250 tickets to "The Mrs. Carter World Tour" only to find out that my beloved Beyonce won't be able to dip it, pop it, twerk it, stop it due to a big ole belly being in the way.
I know, I know: I'm a horrible person for not only thinking this, but saying it in a public space. Still, an arena tour is a lot of work and I wouldn't advise a pregnant Beyonce to do that sort of strenuous show.
So if she is pregnant, congratulations to the Queen, etc. Beyonce was right she when told Good Morning America, "I think my daughter needs some company."
I suppose she does, even though I want my tour and new album. Speaking of, where is the new single, Mother Bey? Can we get some more new music regardless of whether or not you've got a craving for pickled-flavor pig's feet?
PREVIOUSLY: Is Beyonce Pregnant Again?
Be the first to receive breaking news alerts and more stories like this by subscribing to our mailing list.