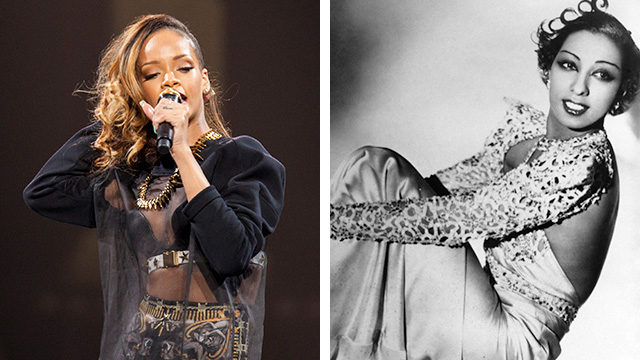 How many more biopics does the world need? Hurry up and answer because by the end of this sentence, at least four more will have already received the green light. Although there already is a great made for TV film about the life of the iconic Josephine Baker starring Lynn Whitfield out there, a production company called Noosa Films wants to create their own version based on her autobiography Josephine.
The company reportedly recently secured the rights from French publishers, Editions Robert Laffont, and are already at work on getting the movie plans going. They even have a star in mind. Producer W. Lance Reynolds is hoping to convince Rihanna to take on the role.
In a statement, Reynolds said, "Rihanna is one of the most talented performers of this millennium and with her unique acting and performing abilities I have no doubt she will bring Josephine back to life on the big screen."
Her performing abilities are unique alright. Rihanna is uniquely able to fill out arenas despite dancing like her left leg is asleep. I love the girl, but she's about as consistent with performing well as Stevie J is with staying faithful.
This is Josephine Baker shaking a tail feather. Now have you ever seen Rihanna move with that sense of urgency? That is, besides to go roll a blunt.
Should Rihanna sign on for the project, won't this be an interesting movie?
Be the first to receive breaking news alerts and more stories like this by subscribing to our mailing list.