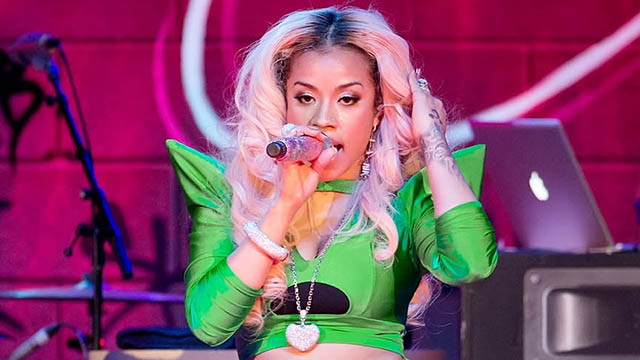 Keyshia Cole has a message to fans in Greenville, North Carolina, currently pissed off that they got their nails done, hair done, everything did only to find out the concert was cancelled: It ain't my fault.
The singer, who is still dealing with angry members of the Beyhive coming for her neck, released a statement denying fault:
"To the City Of Greenville and all my fans,  I sincerely want to apologize for the cancellation of my concert Saturday night. I was ready to give you all a great show. Upon my arrival to the venue, not only was the stage not secure but the sound system was not connected. The promoter, Lorenzo Ferguson of Next Level Ent., did not have adequate lighting, microphones, and other key equipment essentials that he was to provide.

My staff as well as The Greenville Convention staff worked tirelessly to try and rectify the situation. Ultimately, it was clear that I was not going to be able to perform with no sound and lights and by 7 p.m. still nothing was working!! I have done a show with Mr. Ferguson in the past so he absolutely knows what was needed. I always want to give my fans the absolute best Keyshia Cole show possible. I am truly disappointed and deeply saddened at the turn of events."
Translation: Don't curse me out on Twitter.
Though Lorenzo tried to fault Keyshia Cole, the singer's opening act, Chrisette Michele, has lent credence to Cole's version of events. Chrisette's manager and mama explained, "We did not receive a payment, we didn't receive a contract, we didn't receive an offer at all from the situation. For him to stand there and walk way with money is ridiculous."
Yes, Ferguson told fans they could get their refunds by bringing their tickets to the venue on Monday after 1:00 p.m., only he never showed up. Hell no. That could've gone towards the cable bill, the Koreans selling that good virgin Indian hair, or something less fun like your savings.
What happens when you basically rob Keyshia Cole stans? I'm sure we'll soon see via a fight video on World Star Hip Hop.
Be the first to receive breaking news alerts and more stories like this by subscribing to our mailing list.