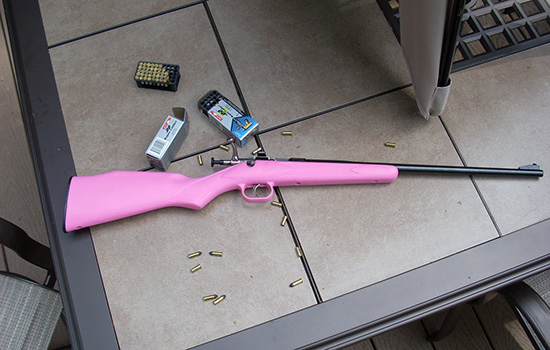 According to police in Cumberland County, Kentucky, a 5-year-old boy accidentally shot and killed his 2-year-old sister Tuesday afternoon (Apr 30) with a gun that was given to the boy as a gift last summer.
"It's a Crickett," Cumberland County Coroner Gary White said, according to the Lexington Herald-Leader. "It's a little rifle for a kid … The little boy's used to shooting the little gun. Just one of those crazy accidents."
The children's mother was reportedly home at the time of the shooting, but had stepped out on the front porch for a few minutes. That's when "she heard the gun go off," White said.
The gun, a .22-caliber youth-model rifle called a "Crickett," or "My First Rifle," (a pink version for girls is pictured above) was kept in a corner and the family didn't realize a bullet was left inside, White said. Police said the shooting happened when the boy was "playing" with the rifle, but didn't elaborate further in their report.
The little girl, identified as Caroline Starks, was rushed to Cumberland County Hospital where she was later pronounced dead. Her death will be ruled accidental.
Amid the national debate on gun control laws, White had this to say:
"Down in Kentucky where we're from, you know, guns are passed down from generation to generation. You start at a young age with guns for hunting and everything," White said Wednesday. What is more unusual than a child having a gun, he said, is "that a kid would get shot with it."

"Accidents happen with guns. They thought the gun was actually unloaded, and it wasn't," the coroner said.
Sadly, this marks at least the third incident in the past month in which a young child has accidentally shot someone, Gawker notes.
In Early April, a four-year-old mistakenly fired upon a deputy's wife, killing her instantly.
The next day, a young mother was hospitalized after her two-year-old son shot her in the stomach with a Glock 9 mm he apparently found hidden underneath a pillow.
Then, a couple of days later, a six-year-old boy was shot in the head by a four-year-old. He was rushed to the hospital where he died the next day.
Be the first to receive breaking news alerts and more stories like this by subscribing to our mailing list.