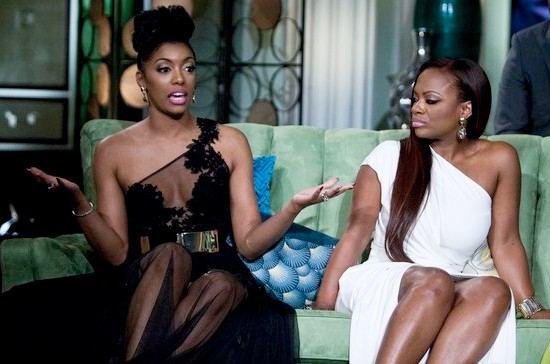 The third and final part of the "Real Housewives of Atlanta" saw Porsha Stewart's walls come tumbling down in a dramatic fashion as she begged for mercy and understanding from her cast mates.
Transitioning from normal life to reality TV is no small feat and Porsha's bumpy ride to reality TV stardom has been fraught with potholes. She clashed repeatedly with her co-star Kenya Moore and she bumped heads with all of the ladies when criticisms about her marriage began to fly.
Given the fact that Porsha's marriage dissolved into a divorce after this reunion taping, the tension and misery Porsha spoke with makes a lot of sense. But regardless of the true state of her marriage, Porsha felt like the ladies were ambushing her on her debut season and begged her cast mates to take it easy.
"Being in this group of women they're so powerful in their own right, I really just wanted to learn from them. I didn't get that, I got knocked down as opposed to pulled up," Porsha said.
NeNe countered, "Don't expect none of these girls to support you unless it's a funeral."
"I'm not fake. I'm Porsha. I want more from my relationships with y'all. I wanna be strong like you," Porsha tearfully confessed.
Her plea seemed to strike a chord as all of the ladies solemnly nodded in agreement and offered her words of comfort.
"Everybody goes through first season," Cynthia said.
But the pity party didn't go too far because NeNe brought it full circle and let Porsha know that while she might feel it's difficult to navigate the show, it was that much harder for NeNe as an original cast member with no blueprint to follow. And if it wasn't for the other women, there wouldn't be a platform for Porsha to step onto. Get it tight, get it right.
Kenya never responded to Porsha's plight, but she maintained her silence and peace which is a pretty much as good as it's gonna get between those two.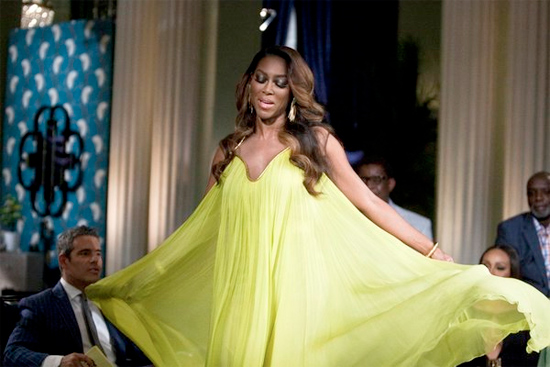 Kenya Twirls Walter and the Haters Away
It takes…not very much to get Kenya riled up but the reunion special got particularly heated when the subject of Walter Jackson came up.
The men of RHOA bonded quickly with Walter and they had his back since Kenya lobbed the whole gay accusation on him.
"Walter's not here to defend himself," Peter barked.
Kenya's claim that she didn't call Walter gay is absolutely disingenuous. "I just had questions about his sexuality," Kenya said.
In other words, you insinuated he was gay and that's somehow different? Go on with that messiness, Kenya.
While the gay claims are foolish, so was Peter's full-throated defense of a man he barely knew. You'd think that Walter was a longtime frat brother of his the way Peter and the other men were going in for their fallen soldier. Peter spent so much time chiding and chastising Kenya for chasing Walter all season long and then labeling him gay once he stopped showing interest in her.
Why didn't he clap back on his friend for schmoozing with a woman he had no intentions of bedding? Who does that and why?
Kenya might be crazy, but Walter's just as cuckoo.
The Walter issue, though, was just one half of Kenya's man problems during the reunion.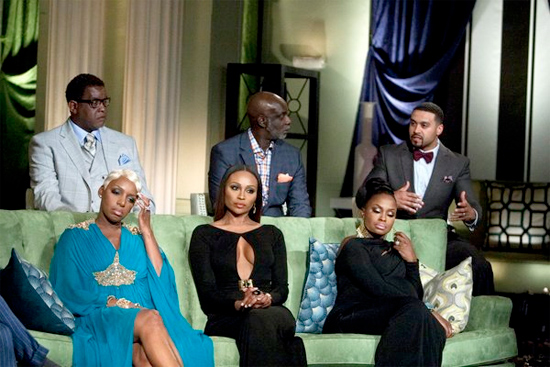 She also clashed head on with Apollo Nida, Phaedra's husband and her one-time crush. When Kenya wanted to blast Phaedra, she insulted her for sleeping with an ex-convict straight out of prison and getting knocked up. Apollo didn't take kindly to that comment and he said that he didn't care too much for Kenya.
That's when Kenya clapped back saying, "Maybe you should stop texting me then."
HOT. DAMN.
The look on everyone's faces let everyone know that Kenya had just dropped a bomb. Apollo, with his back up against the wall, complained that it was Kenya who was pursuing him via text not the other way around. He even said that he had to move hotels to get away from Kenya as she was pursuing him so aggressively.
Now, truth be told, Kenya definitely did flirt with Apollo. But the other truth is that Apollo liked it and encouraged it.
We all saw Apollo sling Kenya over his shoulder and dump her in the pool. He knows the game and plays it well.
That's why even though Phaedra pretended like she was in the know, but you could tell she was a little shook when Kenya handed Andy Cohen her phone to read the texts.
"That's why I called her a whore," Phaedra said.
Well, Kenya might be that, but so's your husband Apollo, Phaedra.
Be the first to receive breaking news alerts and more stories like this by subscribing to our mailing list.