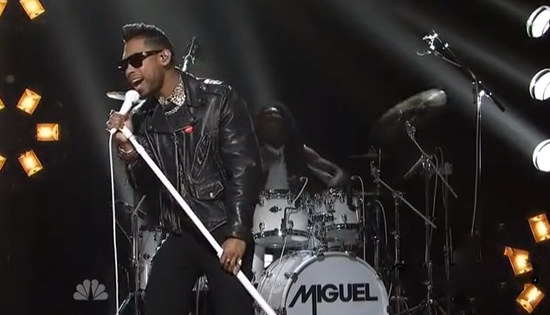 While Miguel has been hailed as a savior of R&B, he took his music in a decidedly rock direction when he performed on "Saturday Night Live." this past weekend.

The singer took the stage with a pair of hater-blocking shades, a cheetah print sleeveless shirt and a bad-ass leather jacket. Miguel's fluid voice soared, bellowed and shined as he reinvented his hit single "Adorn" with an experimental, non-linear arrangement. The song only became recognizable when it hit the chorus.
But he really turned his new single "How Many Drinks?" inside out. The mellow R&B track was converted into a raging punk-rock anthem with Miguel doing his best Mick Jagger impersonation. While loyal fans might raise an eyebrow at the creative arrangements, it speaks to his creativity as an artist. And hey, at least he's not spoon-feeding you the same ol' bullshit.
With talent like this, 2013 is Miguel's for the taking.
WATCH MIGUEL'S SNL PERFORMANCES BELOW:
How Many Drinks?
Adorn
Be the first to receive breaking news alerts and more stories like this by subscribing to our mailing list.