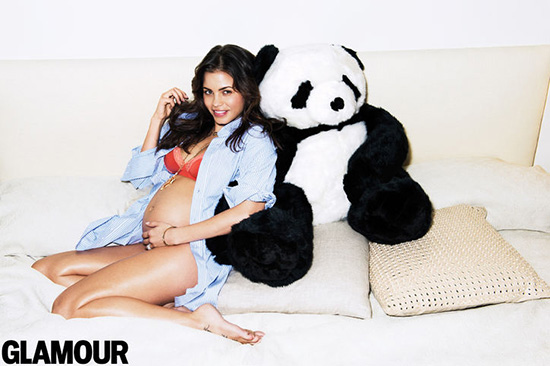 Jenna Dewan-Tatum is getting ready to welcome her first child with her husband, actor Channing Tatum, and in the May 2013 issue of Glamour magazine, she is opening up about the experience, while also stripping down and showing off her bare baby bump.
"I thought my body was going to change so quickly with pregnancy that I'd freak out. But it was really gradual," Dewan-Tatum said. "There's a reason women are pregnant for nine months; by the end, you're ready to have this baby."
In the magazine, Dewan-Tatum shows off her baby curves and talks about how her and Channing are preparing for their soon-to-be bundle of joy
"I have no idea what I'm up against," she said. "But I'm as mentally prepared as I can be. It's an adventure!"
She also talks about how Channing has learned not to argue with a pregnant woman.
"He takes the route of no confrontation, just support, saying things like, 'Do whatever you want! What do you want to eat? I'm going to leave it up to you.'"
The Tatums aren't sure what type of parents they will be, but Dewan-Tatum said they will figure it out. The parents-to-be are just ready to focus on their little one, who will be making his or her arrival by summer.
"Most actors and actresses are consumed by careers and getting ahead," Dewan-Tatum said. "Channing and I are ambitious, but our relationship comes first. We take everything day by day, saying, 'OK, how can we make this work together?'"
On the subject of parenting, and what type of parents she and her husband of four years will be, Jenna said, "Who knows what kind of parents we'll be? We have two dogs, so we've had some practice! And as soon as this baby comes into the world, Channing and I will figure it out real fast."
MORE PICS FROM JENNA DEWAN-TATUM'S GLAMOUR PHOTOSHOOT ARE BELOW:
[Glamour]
Be the first to receive breaking news alerts and more stories like this by subscribing to our mailing list.