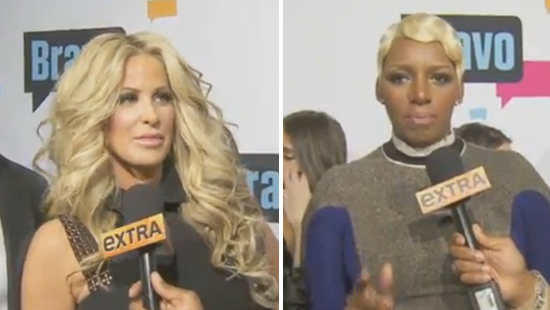 NeNe Leakes and Kim Zolciak shocked the world when they both took to their respective Twitter accounts and announced that they'd buried the hatchet between them.But wait, don't leap for joy too much because the ladies are taking things nice and slow.
While attending the Bravo upfronts, both Kim and NeNe were interviewed on the red carpet. When asked about NeNe, Kim gushed:
I do talk to NeNe, which I know is surprising to a lot of people, but we've had a long chat and we're in a really good place.

She matters more to me than anyone else because we were friends years before 'Real Housewives.'

We have a lot of history together and my girls love her.
NeNe, on the other hand, was a bit more forthcoming about the fact that while she was ready to move on from the past, she wasn't quite ready to use the "f" word with the woman who she affectionately refers to as "Wig."
Lately people have been saying that Kim and I are back friends…

What I feel like that Kim and I did was let the past be the past and agree to move forward…. I just think the word 'friend' is a very strong word.
Watch NeNe and Kim speak about their evolving relationship here:

Straight from the A thinks that NeNe and Kim are making amends for monetary reasons, but it's hard to see why NeNe would have any reason to reach out to Kim for money when she's a "rich bitch."
Personally, I'm not surprised at Nene's comments. Whatever "relationship" Nene has with Kim from this point forward is all about the dough.
Whatever their relationship is, I'm sure it'll be filmed and aired on national TV so we can get our LOLs on when they inevitably drift back to hating each other again.
[SFTA]
Be the first to receive breaking news alerts and more stories like this by subscribing to our mailing list.