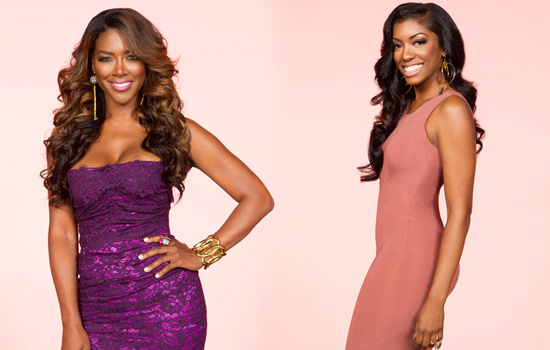 It's no secret that "Real Housewives of Atlanta" stars Kenya Moore and Porsha Stewart have not been BFFs since the two joined the hit series this season. They've clashed repeatedly, calling each other all kinds of "bitches" and "hoes."
But Kenya is not one to kick someone when they're down. So even though Porsha's embarrassing and high-profile divorce from her husband Kordell Stewart provided Kenya with the perfect opportunity to rub it in her face, the former Miss USA took the high road.
Even though @porshadstewart and I have had our differences, I would never want to see anyone in pain. I wish her well.

— KENYA MOORE (@KenyaMoore) March 26, 2013
Aww. Isn't that sweet?
And even if you cynics want to call it an act, it's one that Kenya's even willing to maintain on camera. TMZ caught up with the star Tuesday (Mar 26) after a workout and queried the Stallion Booty diva on her feelings about Porsha's divorce.
She admitted that while she wasn't completely surprised, since the couple seemed to have problems, she still believes that Kordell and Porsha can have their happily ever after together if they "work the kinks" in their relationship out.
Who am I kidding?
This bitch is just saving her real venom toward Porsha for the next season. The cameras aren't rolling right now so going nuclear on her ass would be a waste.
Next season, don't be surprised when Kenya opens the episode with a "That's why Kordell left your ass!" comment in the first 10 minutes.
Be the first to receive breaking news alerts and more stories like this by subscribing to our mailing list.