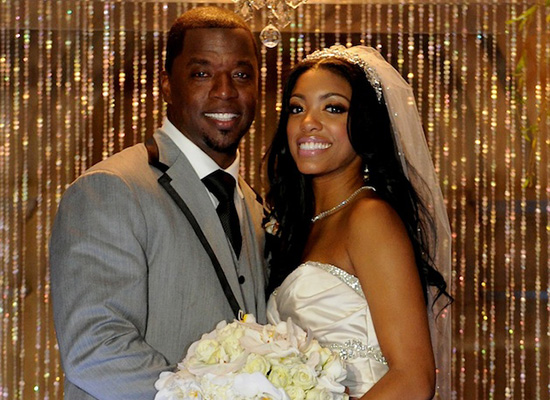 Porsha Stewart from the "Real Housewives of Atlanta" can no longer be considered a "real housewife" … because her husband Kordell Stewart has filed for divorce.
According to divorce documents filed in the Fulton County Superior Court in Georgia, and obtained by TMZ, Kordell Stewart — a former NFL player for the Pittsburgh Steelers — officially pulled the trigger on his nearly 2-year marriage with Porsha Stewart Williams last Friday (Mar 22) … which was about a week after the RHOA cast filmed the Season 5 reunion show.
Kordell was a no-show for the taping reunion special, and now we all know why. Apparently, he didn't have time for that! Especially when he knew he was filing for divorce the next week.
As for why Kordell decided to end his marriage, the divorce docs state that it was "irretrievably broken," and the couple were already separated.
Kordell also writes in the papers that his wife shouldn't be entitled to spousal support, on account of her being "an able-bodied person" who can earn her own income and is "capable of supporting herself."
Suggesting that a prenuptial agreement was signed before they tied the knot, Kordell's divorce filing also states that there are no marital assets to be divided.
Porsha Williams and Kordell Stewart got married on May 21, 2011. They have no children together, though Stewart has a son from a previous relationship.
If you watch RHOA, you're already aware of the discussions Williams and Stewart had about starting a family together. Porsha wanted to have kids, as well as a career in charity work, but Kordell told her she had to choose.
Kordell was also portrayed on the show as a controlling husband who had to give his wife permission to go on a trip to Las Vegas with her "friends" (i.e. co-workers) … and it was rumored that Porsha wouldn't be "allowed" to do another season of the show after this one wraps.
So there's a strong possibility that Porsha will be back next season, now that she's free to make her own decisions for herself. And hey, maybe now she can hit up the strip club!
Be the first to receive breaking news alerts and more stories like this by subscribing to our mailing list.