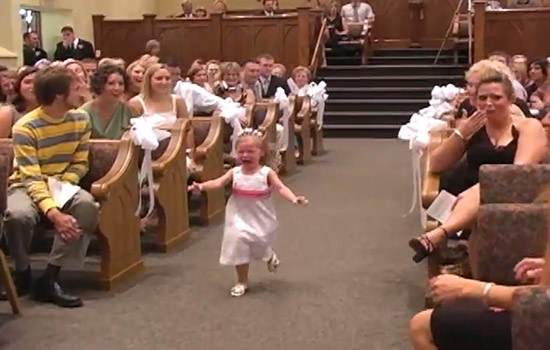 Kids sure do know how to take a moment and make it all theirs. But you can't even be mad at them because they usually do it in the most adorable way possible — like this "screaming flower girl" for instance.
In a clip from "America's Funniest Videos" posted to YouTube last week, a cute little flower girl has an all-out melt down right before she is to perform her duties as a member of the wedding party … stealing the show from right up under the bride.
Apparently, that video footage is from an old clip uploaded to YouTube around this last time last year. The description on that video reads:
The flower girl was all ready for her big debut until…her uncle in the back of church mixed up the order and tried to get her to hold hands with the ring bearer, her brother. As you can see, that didn't work.

Believe it or not, everyone was worried about the littlest flower girl making it down. The ring bearer, her brother, was embarrassed, did not want to wear a tux, hated the pillow, and was stomping like a dinosaur at the end.

But my sister wanted all her only nieces and nephew at the time in her wedding no matter if they made it down the aisle or not. In the end, it's the things that don't go right, that make your wedding unique.
Be the first to receive breaking news alerts and more stories like this by subscribing to our mailing list.